Girls got rhythm
Having released her music through popular labels and opening at Sunburn in Goa, Indian DJ Kini Rao is more than just a promising talent
View(s):
It's 1 in the morning or is it 2? No one seems to care. Certainly not Indian DJ Kini Rao – she's keeping everyone up and moving at Pettah Interchange. We're in the sweltering basement of the historic Gafoor Building in Pettah, dancing to the music of DJs from Berlin, Dhaka, Stuttgart, Delhi, Pondicherry, Bangalore and Colombo, all participants of the Goethe Institute's Sound Camp South Asia.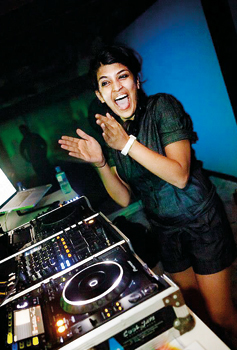 Kini is a promising new talent. She's released her music on respected labels such as Maktub and Whose Haus and has more to come. From being the resident DJ at Poison Hyderabad, she's gone on to open for acts such as dOP, Dale Anderson & Anil Chawla (Global Underground), Djuma Soundsystem, James Harcourt (Twisted Frequency) and Jody Wisternoff (Way Out West). You may have also spotted her at GO: Madras as well as opening the party at India's biggest electronic music event – Sunburn in Goa.
Kini is something of a nomad – she has played gigs at Zenzi Mills (Bombay), Bar25 (Berlin), Villian's Club and Oakroom (Copenhagen) and Public Life (London). She is currently a resident DJ and an artist programmer at F Bar Mumbai, a brand extension of international lifestyle channel Fashion TV.
Find her online at www.facebook.com/kinirao and www.soundcloud.com/kinirao
MM: When did you first become interested in being a DJ and why?
Kini Rao: When I was living in Australia from 2005 – 2008, my flatmate had a pair of decks that he let me mess around with. I was terrible when I first started. It was much harder than it looked, but it kept me interested, so much so that I quit my job as a banker and moved back to India to pursue my new career interest.
MM: What do you most enjoy about being a DJ?
K.R: It is the single most fun thing to do provided you have the right spirit for it. Plus, you get to travel and meet new people!
MM: How would you describe your music? How much of it do you create yourself?
K.R: Broadly speaking, I write house & techno but I like anything with funk and bit of soul. I've been producing music for a year and half. So it's only just the beginning for me. I'm always writing new ideas out and I usually include a few of my tracks in my sets.
MM: What makes EDM such an exciting genre to be playing around with?
K.R: There's a lot of really exciting electronic music being made these days and it so happens that it grabs my attention more than other genres. I listen to a lot of other kinds of music as well, but as a DJ I love the energy electronic music brings out in people.
MM: If you were asked to compile a list of some of your favourite musicians – who would make the cut?
K.R: DJs & producers I'm currently into include Paul Woolford, Robert Dietz, Crazy P, Okain & D'Julz.
MM: Are there challenges specific to being a female DJ working in India?
K.R: There are no specific challenges of being a female that don't equally apply to male DJs. It's like any other job; it's a constant learning experience and you have to work hard for it. But there's a huge difference between practicing in your bedroom and playing in a packed nightclub, and with time you get used to it and you need to build on that experience going forward.
MM: What were the highlights of your time in Sri Lanka?
K.R: Being on Ruskin Island, having those two weeks to just collaborate and get to know other musicians and the working methods of others. It was an amazing learning experience and a wonderful initiative by the Goethe Institute. Definitely a high point in my career
MM: When will you be back again?
K.R: As soon as possible I hope. Sri Lanka is gorgeous and the people are wonderful and welcoming.
Follow @timesonlinelk
comments powered by

Disqus