'Ethical advertising and the consumer' at the STBC
View(s):

Ethical advertising, the markets and the consumer will be  the focus of attention at the next meeting of the Sunday Times Business Club on Thursday, August 23 at the Taj Samudra. On the theme: "Advertising Ethics, Marketing and the Consumer", four panelists will present their views on this issue based on the perspective of a client (company advertising a product), advertising industry and on ethics, regulation and the law.

The panel comprises – Asanga Ranasinghe, Marketing and Communications Director – Unilever Sri Lanka; S. Sundhara Moorthy, Chief Operating Officer, Phoenix O&M (Pvt) Ltd, Colombo; Dehan Seneviratne, marketing consultant; and  Prasantha Lal de Alwis, Attorney-at-law.  The Taj Samudra is the host hotel of the club with Etisalat as the main sponsor and Hameedia as the co-sponsor.

New EXCO takes over at ST Business Club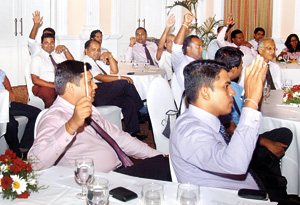 The 17th annual general meeting of the Sunday Times Business Club (STBC) was held last week at the Taj Samudra, the club's host hotel.
The following were elected as office bearers of the Executive Committee for 2012-13:
President – Chathuranga Perera; Vice President – Amal Fernando; Secretary  – Sampath Kulathunga; Treasurer – Hiran Perera; and members: G.K. Wijayananda, Nuwan Perera, Prasanna Samarasinghe, Chandana Senaratne and Anura Perera. The immediate Past President is M.R.M. Hakeem.  Pix by Nilan Maligaspe shows Chaturanga Perera, M.R.M Hakeem and members during voting.
comments powered by

Disqus