Despite rider demands, Gajaba Supercross promises exciting motor sports fare
By Naushad Amit
View(s):
Despite the ongoing crisis among race riders, the organisers of the 11th Gajaba Supercross 2012 motor sports event are firm that they can produce a sterling event on August 26 at the Saliyapura racing track in Anuradhapura. The second oldest motor racing event of the country organised by Sri Lanka Army, the Gajaba Supercross is second only to the Fox Hill Supercross which is hosted by the Sri Lanka Military Academy in Diyatalawa. However the motive behind these events is of the same according to Major General Sumedha Perera, the Colonel of the Gajaba Regiment, the organisers of the event."The funds raised from the Gajaba Supercross is utilised to improve the welfare facilities of differently abled soldiers, casualties of war, families of deceased soldiers, as well as to improve the infrastructure facilities of the regiment. Above all our aim is to popularise motor racing in the North Central Province and look at possibilities of bringing out the potential riding and driving talents of the youngsters from the region," Perera said.
A section of the local racing riders few months ago threatened to pull out from local motor racing events staged by the Sri Lanka Army citing they were overlooked by organisers on many occasions. In addition the riders claim that they never got cash returns by taking part in any of these events and added that the overheads were too big to handle. But the conductors, Sri Lanka Association of Racing Drivers and Riders (SLARDAR) revealed at the Gajaba Supercross 2012 press conference that riders have been awarded with a modest cash award, as an alternative measure to help the riders in order to encourage more participation.
"So far out from a possible number of 70 riders, 20 have already sent their entries for the Gajaba Supercross. This is an encouraging start. We also presented the top three finishers of each riding events with an incentive cash award, which we know is insufficient. But for the previous motor racing events which were conducted by SLARDAR, we have had very good participation from the riders. The so called crisis is seemingly seizing off according to our observations," Mahesh Gammanpila, the president of SLARDAR said.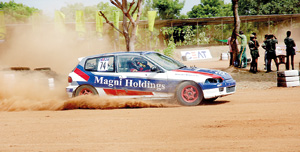 However the 11th Gajaba Supercross promises to hold 21 events — 11 car and 10 bike races — the usual number of events that SLARDAR organised meets had during the past. Gammanpila further added that the two jeep events have been put on hold for the Saliyapura event as they have not received any entries so far. But Perera, the Colonel of Gajaba Regiment promised that a memorable motor racing event is on the cards. He was hopeful that all pertaining misinterpretations among the participants could be sorted out on August 26, where the true skills of over 200 riders and drivers generate the thrills on the two-mile Saliyapura Supercross track. The Gajaba Supercross 2012 will be the fifth round of SLARDAR-CEAT championship events.
comments powered by

Disqus