In the limelight
Having won 'Australia's Got Talent' Andrew De Silva tells the Mirror Magazine his perfomance on the TV show has given him a new found strength
View(s):
Australia has a new hero. Having stepped out of the spotlight to battle cancer over a decade ago, Andrew de Silva born to Sri Lankan parents stepped right back in with the T.V series Australia's Got Talent. The talented singer and songwriter fought his way to the finish – and won.
To do so, he had to conquer a debilitating stutter that had made him paralysingly self-conscious all his life. As a student, it had kept him from answering questions in class.
As an adult and the frontman of the group CDB, that stutter meant he couldn't talk to reporters about the lyrics he'd written and when it came to his partner Elle, he found himself dreading the thought of stumbling over his vows in front of their friends and family. For someone as shy as Andrew, stuttering on national television was the stuff of nightmares.
However, while there were times he did struggle to get the words out, Andrew had no trouble singing his heart out. Gambling on himself paid off spectacularly last week when he won the series and walked away with $250,000 in cash and the fame that comes with it. Even more importantly, Andrew won singing original compositions like 'A Beautiful Thing' and 'Now That I Believe' – both tracks which will appear on his upcoming album.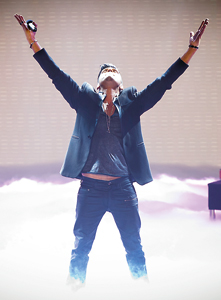 "Coming on this show is like breaking through a barrier of fear and shame about having a stutter," Andrew told viewers, and his honesty made him an inspiration to others, winning him many votes from fans. After his final performance, Brian McFadden, a former Westlife member and a judge declared – "It's just 'Wow,' every time you walk on the stage. You are world class and I think you should win this show."
In an email, Andrew said: "The experience has given a great amount of confidence to get out there again and also it's given me stronger faith." A day after he had won, he told the Mirror Magazine that singing in the finals "felt like this whole journey on the show had come to a perfect ending.
I just had a great faith that win or lose, the outcome would be God's will." He has been flooded with requests for interviews and letters from fans since then. Online, he had fans thanking him for the inspiration he's given them and declaring they love his music. There's, however, one thing they want to know and that is if a reunion with his group CDB is in the works. Andrew says not right away. For now, his focus is on putting together an album of his own. "The best thing about the show was sharing my original music with the nation," he told us, "It's more about the words that I'm singing than just singing."
Noting that his music was cleverly "crafted" for his voice, the judges praised his vocal range. For Andrew, it wasn't just about his own comeback but teaching his kids a valuable life lesson about overcoming fear as well. He can consider the lesson learned. Yasmin, 10, and Jada, 4, looked simply thrilled as they joined their father on stage.
After years spent providing the soundtrack to other people's weddings and crooning over the clatter at the local pub, it will be good to be performing his own music instead of covers. When released, his album is likely to sell well considering all the pre-publicity. "I have many songs to choose from," Andrew says.
"It's just a matter of compiling the right ones for a first album. All of the songs I've sung on the show will definitely be on the album." He's super excited by what the future holds,"there's so many opportunities now to reach out to people," he says, anticipating "bigger shows and a chance to release my music."
comments powered by

Disqus