LIFT for Fashion Education, Fashion Retail & Overseas education
View(s):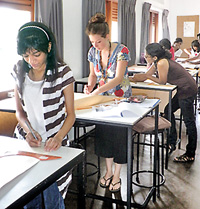 Lanka Institute of Fashion Technology is a specialist institute formed in the year 2000 as the first and foremost Fashion education institute in Sri Lanka. LIFT provides a comprehensive education focusing on the relationship between the design product and the consumer. The institute strives to produce a new generation of designers, entrepreneurs and highly skilled professionals who are equipped by the well grounded education, technical expertise and marketing acumen. LIFT is situated in the heart Sri Lanka at No.87, Horton Place Colombo -07, provides fashion education, fashion retail for designer wear and overseas education being the representative for the University of Northampton – United Kingdom.
LIFT offers a balanced course of study. All students go through creative and technical subjects. Beginning with the basics of art and design to fashion illustration, research and fashion communication, visual studies, design development, pattern cutting and garment manufacture. Advanced creative pattern making and draping, pattern grading, historical studies, textiles, computer aided design with the support of Lectra and fashion accessory design are some of the creative and technical subjects. LIFT students also learn to build their own brands through the fashion business studies. Module, that is linked with market research and fashion promotion. Students are also given the opportunity to go on factory visits to leading garment factories, washing plants, embroidery plants and workshops on batik and silk painting, lace craft, handloom factory visits to encourage on learning and continuing on Sri Lankan crafts in their design concepts for the future. Fashion photography and styling is a part of the Advanced Diploma in fashion course where each designer gets the opportunity to create a specific look and work on a professional photo shoot for their final collection.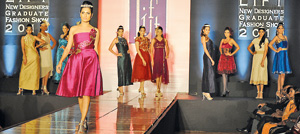 LIFT as an establishment grew from strength to strength and it was decided to add similar support and value addition through various specialisation pathways such as textiles for fashion, fashion footwear & accessory design and fashion marketing.
LIFT curriculum is geared to train fashion professional and entrepreneurs and its students have many success stories from around the world today with successful carriers within and beyond Sri Lanka. LIFT graduates are employed in the apparel industry in Sri Lanka and design companies abroad in the United Kingdom, United States of America, Australia, Netherlands and Singapore. Some graduates are proud owners of their own brands.
LIFT stands as a group of companies today offering education through Lanka Institute of fashion technology (Pvt) Ltd.  Promoting young designers and talent through LIFT Designer wear (Pvt) Ltd. and guiding students on overseas studies through LIFT Overseas study placement center.
LIFT Designer wear
LIFT Designer wear (Pvt) Ltd. is an exclusive boutique in Colombo -07 Sri Lanka that was formed by Ms.Niroshani Leanage and Neloni Leanage who are the Joint managing directors.  This unique designer boutique is dedicated to introduce new designer brands, specially the talent of fashion designers who are trained by Lanka Institute of Fashion Technology.
LIFT Designer wear is created to give the customers the feel of luxury of creative clothing. Shopping on a red carpet surrounded by creative walls to select their outfits will give the customers a different feel of experiencing the collections available. A group of assistant designers and the team is let by the head designer works in a studio dedicated for the boutique. Design development & production has been carefully looked after by the assistant designers and a limited number of outfits are made from each design.
LIFT supports their graduates with business opportunities and making their entry as new designers in to the fashion industry with their new labels. The unique designer boutique (LIFT designer wear) is the platform for these young designers to meet their customers. Student can also opt for internship at the studio of the boutique and LIFT is the only fashion education provider in the country which provides this facility in-house for their graduates.
LIFT Overseas
The University of Northampton is one of the top universities in the United Kingdom. In the year 2003 a link was established with the University of Northampton to enable students to further their studies up to undergraduate and postgraduate levels with merit based international scholarships. Through LIFT Overseas students are given free advice and support on selecting a course which ranges from Accounting & Finance, Business, IT, Dance, Drama, Education, Fine Art, Health Studies and many more, on the application process, and selecting the course to receive offer letters, Advice on financing their studies, the student visa process and Guidance on and arrangement of accommodation on campus.
LIFT is dedicated to sustaining growth with its values and unique culture, which encourages young individuals to be professionally qualified designers in leading an innovative, steady fashion revolution for a brighter future.  For more information call 2681848 / 2681870  or visit www.lift.lk , No.87, Horton Place, Colombo -07.
comments powered by

Disqus