Apiit Law School's Unique 'Skills' Programme
View(s):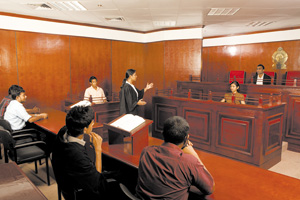 Studying law presents many challenges, from understanding new concepts and new teaching and learning methods, to new ways of writing and communicating. At APIIT Law School, students study core modules from the Staffordshire University Law School (UK) curriculum, including "Skills for Knowledge and Learning in Law" (or, "SKILLs"), a module of study which develops students' skills for success in their law studies and future employment.
Why is the SKILL's programme important?
While other core modules are taught by way of lectures and small group tutorials, SKILLs is taught in workshop mode, with workshop activities focused on development of "Transferable Skills", which a law student requires to study for a law degree as well as potential employers look for in candidates for employment. For example, problem solving and presentation skills are essential for both assessments in law and in legal practice. The programme includes an oral presentation and examination problem questions throughout. The SKILLs module's focus on learning, lawyering and personal enhancement has proved to be invaluable for students in completing the first year of their law degree.
Two students successfully completed their second year, Erandi Dassenaike and Manjula Baranage, share their experiences of the SKILLs programme. According to Erandi, "the learning SKILL's encompassed a wide range of skills, from identifying the reliable sources of legal information for academic research to approaching problem solvin. This enhanced my research skills and I was able to locate material in a comparatively short period of time and for a practicing lawyer nothing can be better than that".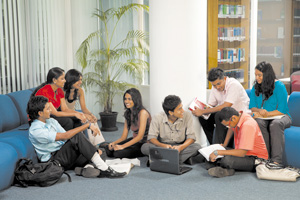 What did the students have to say about their learning experience?
The problem solving session aided me in understanding how to approach a problem question, provide a good structure and answer to the point, which proved beneficial for the other law module" Manjula says "the SKILLs module helped me to improve my legal writing, case analysis, research, presentation and referencing skills. Therefore I was able to do well in assignments…"
On employability, Erandi says "the latter part of the SKILLs course provided me with the necessary skills required to enhance my personality…I gained an insight into what a prospective employer would want from their prospective employees… This module gave me an academic as well as a non academic perspective in lawyering which I had never experienced before…"
This emphasis on recognition and development of transferable skills permeates the curriculum and extra-curricular activities. Manjula explains: "…Group exercises held weekly …. helped me to develop team working skills and problem solving ability, also leadership skills as a leader appointed to coordinate group activities". Also, "I voluntarily took up the challenge to participate as a defence counsel at a mooting exercise held in the APIIT Law School …I effectively utilised the skills of oral communication, research, logical argument, self confidence and time management."
How useful is the Moot Court?
APIIT Law School facilities include a purpose-built mock courtroom or "Moot Court", the only one of its kind in Sri Lanka, which students will utilise for simulated court proceedings improving their "lawyering" skills.APIIT Law School makes it possible for you to have one on one tutoring sessions under the personal tutor programme which provides students with personal support and guidance throughout their studies by a team of experts, the SKILLs curriculum reflects the importance of students' personal development to both Staffordshire University and APIIT Law School.
Students wishing to experience the APIIT Advantage register now for the next intake. Call Senani on 0112675105 and Ishani on 0112675106 or visit our state- of- the- art APIIT Law School at Union Place, Colombo 2 and we will give you a tour of the facilities and set up a meeting with a lecturer.
comments powered by

Disqus