Major parties finalise nomination lists as closing date nears
By Damith Wickremasekara
North Central, Sabaragamuwa, Eastern PC Polls
View(s):
With nominations for the North Central, Sabaragamuwa and Eastern provinces due to close on Thursday, the UPFA has decided to field its former chief miniterial candidates to lead their campaigns, while the UNP and the JVP have picked its leaders in the provinces to spearhead their campaigns.
Interviews being conducted at the UNP headquarters Srikotha on Friday to select nominees. Pic by Athula Devapriya
Though nominations for the elections commenced on July 12, all the main parties are due to hand over their nominations only on Wednesday or on the last day.UPFA General Secretary Susil Premajayantha said the nominations will be signed tomorrow, with the party deciding to reject those charged for criminal activities. "We have delegated the responsibility to the former chief ministers to check their records and ensure that nobody with criminal charges is included in the lists," he added.
"We have even instructed to check the police records of those contesting from our party", he said.
He said that, the former chief ministers have been given the responsibility to lead the campaigns in their respective provinces, while the person receiving the highest number of preference votes is assured of being appointed chief minister.
He said that soon after nominations are over, a list of instructions on how to conduct the campaign, will be given to the campaign heads. Among the instructions will be to ensure a violence-free campaign and to desist from displaying posters and cutouts in contravention of polls laws.
He added that President Mahinda Rajapaksa will be addressing some of the rallies.
UNP General Secretary Tissa Attanayake told the Sunday Times that his party was in the process of finaliszing the nomination lists which will be completed tomorrow. "An election campaign committee led by leader Ranil Wickremesinghe will be meeting to discuss campaign strategies", he added.
He said that the Eastern Province list will be according to the ethnic divide within the region.
Mr. Attanayake said that the party will be collecting a list of instances where State property is being used for election activities of the UPFA and file action in courts.
UNP spokesman Gayantha Karunatilleke told the Sunday Times that the names of persons leading the election campaign for the party, will be disclosed soon after nominations close.
"We will be carrying out a house-to-house campaign and conduct pocket meetings in addition to the major meetings," he said.
JVP General Secretary Tilvin Silva told the Sunday Times that his party had selected the main candidates for the three provinces. They will be former MPs Vasantha Samarasinghe (North Central), Gamini Ratnayaka (Sabaragamuwa) and Vasantha Piyatissa (Eastern).
He said his party's campaign theme will be 'Janasatanata nawa jawayak' (A new life for the masses' struggle). He said the party will be focusing on pocket meetings, in addition to major meetings.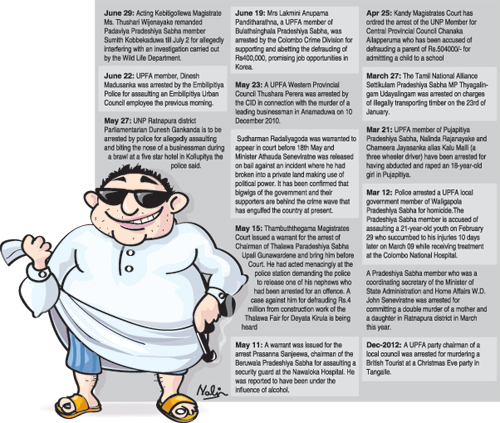 comments powered by

Disqus