The conspiracies that failed
By By Halaliye Karunathilake Edited and translated by Kamala Silva Illustrated by Saman Kalubowila
Our History | This article is part of a continuing series on the 'Mahavamsa,' the recorded chronicle of Sri Lankan history
View(s):
The Portuguese did not retreat through fear of the revolt. They continued fighting and erected a fortress at Sitawaka. One party marched towards Kurunegala, continuing their attack. Another group of troops marched to Kandagamuwa and fought the rebels. Yet another set of troops marched towards Batugedara attacking the rebels as they marched. The Portuguese who marched still further, erected a
fortress in the premises of the Devale, in Kuruwita. Most of the soldiers here were mercenaries. King Vimaladharmasuriya tried to get their support.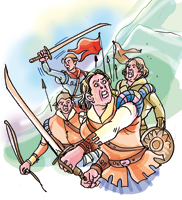 This attempt failed. Meanwhile, Samarakoon Mudali who was the one who supported the Portuguese, was in Ruhuna. There arose a conspiracy against Samarakoon Mudali. That too was a failure. However much the rebels tried, the Portuguese were able to defeat them. They went on strengthening their power. It is during this time, that the King of Kotte, Don Juan Dharmapala passed away. He was the last king of Kotte. He changed the history of the royal family by embracing Christianity.
Not only did King Dharmapala bring about his own downfall, but also the ruin of everyone who associated with him. It is through sheer luck, Don Juan Dharmapala got this kingship. Merely because his grandfather, King Buwanekabahu loved him so much and expected a lot from him, he was selected for the post. He resembled his grandfather in looks and even in his walk. Though King Buwanekabahu had two sons from his second wife, they were ill-treated.
The biggest blunder King Buwanekabahu did was to choose his grandson as his
successor. This affected the king very badly and dealt a big blow to the country, its people and the religion. King Buwanekabahu went against the accepted norms of kingship, to make his grandson the king of the country.
This created a lot of enemies for him. His most powerful enemy was his younger brother, King Mayadunne of Sitawaka. This made Mayadunne fight against the Kingdom of Kotte.
comments powered by

Disqus