Lady teacher seeks transfer to talk to boyfriend
View(s):

It was a day when Uva Province Chief Minister Shashindra Rajapaksa met members of his electorate.
There he listened to the grievances of his supporters and directed officials what action to pursue.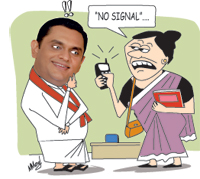 After a long wait, a school teacher managed to meet the chief minister. She was asked what her problem was. She told him she wanted a transfer. The reason – at the rural school where she taught, her mobile phone did not receive any signals. She wanted to be posted to a school where there were signals so she could talk to her boyfriend.
That was perhaps one request the chief minister did not oblige. Her boyfriend would have to wait until a tower comes up close to the rural school or relocate himself to where she is.
Aftermath of Vavuniya, strange scenes at Ragama hospital
Prison authorities were not taking any chances with two badly hurt inmates of the Vavuniya Prison during the events that followed the hostage taking of an official. The commando arm of the Police, the Special Task Force, launched a rescue operation that brought the official to safety. Two of the injured were later transferred to the Ragama Teaching Hospital.
An eyewitness at Ward Five in the hospital saw the duo, who underwent surgery, in their beds heavily sedated. Yet, the two were chained to their beds much against the advice of doctors. Evidently prison officials wanted to ensure that their quarries did not escape.
The eyewitness said four prison armed guards were deployed on a round-the clock-watch. No one was allowed to talk to the two men, except for doctors and the hospital staff. This too was in the presence of the guards.
"A curious scene," the eyewitness said, came "when the guards would take a close up look of their charges every now and then. This was even after midnight when the ward was sans visitors." Baffled patients were asking each other what the guards were peering at when the two prisoners just could not escape.
It later transpired that they had been instructed to check periodically to ensure that the two prisoners were alive. This was because a third had died.
Tea Board: More than a storm in a tea cup
Ministers vie with each other these days to claim how foreign investments are coming into the country in billions of rupees or millions of dollars. Hardly a day passes without such claims at public events or through media statements.
On the other hand, how state enterprises have performed over the years tells a tale of wanton neglect and disregard for government rules. They unfold every now and then before the Parliamentary Committee on Public Enterprises or (COPE).
One such example, heard by COPE members is about the Sri Lanka Tea Board (SLTB) whose primary objective is to promote Ceylon Tea, "satisfying the needs of growers, smallholders, tea manufacturers, exporters and global consumers while ensuring the interests of other stakeholders."
An instance is how the SLTB handled short-term investments. About Rs 67.3 million (at the Sterling Pound rate prevailing then totalling 404,595) remained invested with the London branch of the Bank of Ceylon on 07 day Call Deposits over a period exceeding six years. In other words the money was placed with the Bank for just seven days on a previously arranged rate of interest but continued to remain for six years. The SLTB incurred a loss of Rs. 21 million resulting from what the Auditor General's performance review says is "the diminution of the exchange rate of the Sterling Pound." The amount had to be written off against its profit for 2008. No one will know who is accountable and whether he has been dealt with.
In another instance, the Tea Promotion Unit in Japan was closed down and the promotion work was handed over to the Sri Lanka Embassy in Tokyo. About Rs. 6.6 million has been spent by the SLTB as Customs duty and other import duties. The reason? It brought to Sri Lanka a vehicle worth more than Rs 1.9 million (without taxes) it had purchased earlier in Tokyo. That is bad enough. Worse was the fact that "the vehicle was idling in the Board premises for more than a year. Then the vehicle was revalued for Rs 3.8 million in 2010 and sold for Rs. 2.4 million in 2011.
This is just one of those cases which show how the state sector functions.
No drugs, so they eat more, bathe more in prison
Officials at the Colombo Magazine Prison were somewhat surprised that rice and water consumption was rising.
Four hundred kilograms of rice used to feed around 1,800 remand prisoners had increased to 450 kg a day. They also noted that the daily water consumption had gone up.
It came to light that the use of drugs in the prison had come down after those suspected have been moved out. So, in the absence of drugs, others seem to eat more and bathe more regularly, said a prison official.
Oranges and apples don't make mangoes: President rebuffs education ministers
At last Wednesday evening's weekly Cabinet meeting, President Mahinda Rajapaksa drew an interesting analogy of the controversial "Z" score marking system for GCE Advanced Level students. "When you have six oranges and add six apples to it, they do not become mangoes," declared Rajapaksa. He was alluding to the use of the old and the new syllabuses in determining the "Z' score.
No doubt, it was a sharp rebuff for Education Minister Bandula Gunawardena and Higher Education Minister S.B. Dissanayake. After the Supreme Court ruled against the "Z" score system, the two ministers publicly disclaimed responsibility.
Though Rajapaksa spoke in sweet terms using fruity examples, the message was clear to the ministers present at the meeting. One irate minister whose close relative was affected by the "Z" score system remarked rather acidly "if they did not know or had nothing to do, why on earth are they ministers," he lamented. Well, well, it does not take a minister to say that. There are many students who are in concert.
President tells MPs: Shut up or get out
President Mahinda Rajapaksa also took the opportunity of Tuesday's Government Parliamentary Group meeting to warn his Parliamentarians.
"I have been told that some are criticising the Government. They claim there are problems within. If anyone thinks that way, the door is well open. They can leave," he said.
There was pin drop silence after the remarks, said a Government Parliamentarian.
EAM thinks Castro too ill to meet MR
We wrote asking why President Mahinda Rajapaksa on his state visit to Havana recently en-route for the Rio+20 Earth Summit in Brazil was unable to meet with the iconic anti-US revolutionary Cuban leader, Fidel Castro.
Now comes an explanation from the External Affairs Ministry saying that officials made contacts at the "highest levels" to arrange a meeting for President Rajapaksa with Castro. However, it did not work out.
EAM sources said there was no response to their efforts and they believed that a meeting was not possible since Castro may be too ill to meet visitors.
Last month, Rajapaksa and an entourage of 45 visited Cuba on a specially chartered SriLankan Airlines Airbus A 340.
On a visit to the Sri Lanka Embassy compound, they found that kos (jak fruit), del (breadfruit) and amba (mango) trees were bearing fruits.
They also learnt that Havana had 120 diplomatic missions. The Swiss Embassy had a large, separate wing which had the US Interests Section. For some members of the delegation, a humorous moment came when they saw Cuban youth wearing T-shirts which bore the words "I love New York" and "I love Florida."
Bandula under heavy fire: Mervyn to the rescue
It was a meeting of the Government Parliamentary Group with President Mahinda Rajapaksa in the chair last Tuesday.
The grouse for most MPs was the controversial "Z' score, one that threatened to deplete their vote base. One after another, they began raising issue, hurling criticism at Education Minister Bandula Gunawardena.
Coming to Gunawardena's aid was Minister Mervyn Silva. His words in Sinhala went "Amathithumata api tikak viveka ganna demuko. Ethuma hembath wela inne. Mokada Bandula amathithumath hariyata gedara thiyena yakadaya wage. Wahinakaota yakade danawa eliyata, hena walin berenna. Wessa payapuwama apahau geta gannawa. Anthimata gedara ewunta mathaka nehe yakade eliyata dapu nisa thamai hena walin berune kiyala."
In English, the remarks went thus: Let us give the Minister some time. He looks tired. Minister Bandula is like the iron bar at home. During rains, it is thrown out. That is to seek protection from lightning. When the rain ends, it would be taken back. But tenants do not realise they were protected from lightning because the iron bar was thrown out.
Minister Silva successfully pulled off one more of his stunts to defend a ministerial colleague.
Weerawansa using 30  vehicles, unions allege
He is a man synonymous with protests and his forte is on subjects that involved Sri Lanka's foreign relations.
An example not forgotten by many Sri Lankans is how Minister Wimal Weerawansa staged a "fast unto death" in July 2010. He wanted the UN Secretary General Ban Ki-moon to disband the three-member panel he had appointed to probe accountability issues in Sri Lanka. The UNSG did not heed the call. In just over a day, Weerawansa called off the fast.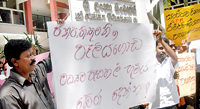 Last Thursday there was news of a protest against Minister Weerawansa himself. It is from trade unions in the State Engineering Corporation (SEC), both pro and anti-government ones. They staged it outside the head office. The unions included those affiliated to the Communist Party, the Sri Lanka Freedom Party (SLFP) and the Janatha Vimukthi Peramuna (JVP).
The issues they were protesting ranged from alleged corruption in his Ministry to a demand for a salary increase.Construction, Engineering services, Housing and Common Amenities Minister Wimal Weerawansa was also not spared of allegations. One of them was that he used nearly 30 vehicles released from the SEC.
Dudley Palansooriarachchi, General Secretary of the Corporations and General Workers Union, told the Sunday Times another issue was the allotment of 22 acres of land in Peliyagoda to a private concern. It adjoins the SEC's main construction workshop.
Yet another was about 40 SEC employees whom the trade union leader alleges are working "unofficially" as Sales Development Officials. "They are receiving substantial salaries which are not recorded and are not part of the pay-sheet," he said. They wanted the matter investigated. The protestors demanded a pay-hike for all SEC employees and claimed it was long overdue.
JHU woos all sides to block Wijeyadasa's bill
The Jathika Hela Urumaya (National Heritage Party) wants to take every step possible to thwart the private member's motion by UNP MP Wijeyadasa Rajapaksha to ban members of the clergy holding parliamentary seats.
Later in the week, President Mahinda Rajapaksa threw his weight behind them by asking his MPs to oppose it.
A JHU delegation led by Western Provincial Council Minister Udaya Gammanpila met Opposition UNP Leader Ranil Wickremesinghe to seek his help. The latter promised to allow a JHU representative to address the UNP parliamentary group once the motion was listed in Parliament's Order Paper.
Gammanpila raised issue over the legality of words used in the proposed motion. He explained the difference between "clergy" and "priest" and the use of these terms by different religions.Wickremesinghe, a lawyer himself, argued that one single word cannot be used to replace the two. Gammanpila remarked in Sinhala "Wijeyadasa Rajapaksha mahathayata obathumagen neethi upades awashyai." (Wijeyadasa Rajapaksha requires legal advice from you).
After diplomatic duel, Tamara goes to Havana
After all the ranting and raving, Tamara Kunanayakam, Sri Lanka's Ambassador to the UN in Geneva, will go on transfer to Cuba.
Last Wednesday, she gave a farewell lunch to Geneva-based diplomats and UN staff. The theme listed in her invitation was "from Havana to Geneva and Geneva to Havana." To make sure she was an ardent Cuban fan now than before, Ms. Kunanayakam also hosted a photographic exhibition on Fidel Castro's land.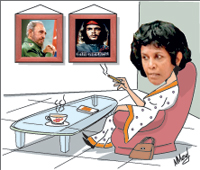 When President Rajapaksa and an entourage travelled to Cuba, Ms. Kunanayakam was invited to join. However, she arrived in Havana in a commercial flight only on the day the President was to leave for Rio de Janeiro. So she joined the specially chartered Sri Lankan Airlines Airbus A340 for the trip to Rio.
Despite publicly castigating the inefficiency of the External Affairs Ministry in Colombo in a letter Ms. Kunanayakam wrote to Minister G.L. Peiris, an irate official there said, the non-career diplomat who ate 'humble pie' would now have to be drinking a lot of Sri Lankan tea mixed with Cuban sugar — and smoking a Havana cigar while she's at it, ruing her fate.
comments powered by

Disqus