Heritance Ahungalla Holiday with luxury at its best
By Sanath Weerasuriya
View(s):
One of the earliest creations of veteran Architect late Geoffrey Bawa was Triton in Ahungalla. Water is a main feature of his signature designs.
Triton was his first experiment with water, which was the solid base for his star class creations in later days.
Inter connected stretch of water lead the guests into the hotel and guide their eyes to across the ocean to the horizon. The infinity pool makes feel as if you are in the ocean itself when you get in and your eye level is just above the water.
Triton has transformed in to a five star luxury hotel under the re-branding process few years ago with 154 rooms, Bawa's theme was not changed.
All 128 Deluxe rooms, 15 luxury rooms, five suites and four luxury suites at Heritance Ahungalla face the sea with private balconies. Luxury Rooms have corner locations, so they have much larger balconies and seating areas. The bathroom contains a bathtub with overhead rain shower and weighing scales.
Spacious Luxury Suites have separate living rooms with DVD player and home theatre system – perfect for a family night in or entertaining friends.
Polished wood is a big feature, along with stone floors in the bathrooms and locally woven throws and cushions or handmade batik hangings. Sophisticated monochrome colour schemes highlight the clean, elegant feel – this is stylish seaside living at its finest.Each bathroom is tastefully supplied with custom-made Ahungalla toiletries.
The rooms are fully equipped with energy-efficient air conditioning, TVs with satellite and local channels, a comprehensive minibar and a digital safe. 'With all these facilities and luxury, our main attraction is the personalized service. That counts a lot with our type of clientele' Refhan Razeen, the General Manager of the Hotel said very correctly. The cuisine experience too at Heritance Ahungalle is a philosophy based on a threefold foundation of taste, presentation and health.
The hotel has three restaurants that can seat a total of 285 people, as well as several outdoor venues, where food is served on special occasions. Jute Restaurant will give the opportunity to try a wide range of Sri Lankan food, as well as the best of international cuisine, with dozens of choices and regular theme nights. For fine dining in a sophisticated ambience, the hotel offers a global à la carte dinner menu in the Upper Room.
The culinary brigade at Heritance Ahungalla is one of the best in Sri Lanka, having won numerous awards over the years. Most recently, in August 2011, they won awards for the Best Hotel Team and Best Culinary Team at the Culinary Arts Competition organised by the Chefs Guild of Sri Lanka.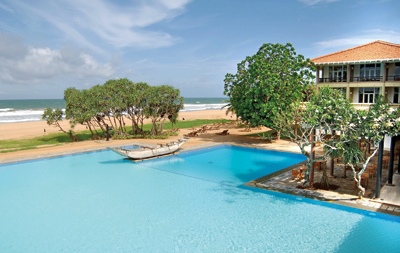 The cuisine at Ahungalla is supervised by the world class Chef Dimuthu Kumarasinghe who has won nine gold medals at the Culinary Olympics and the Culinary World Cup.
A river safari on the Madu Ganga, a visit to Kosgoda Turtle hatchery, Singharaja Forest tour, Galle Heritage tour, Fresh water fishing, visit to local Cinnamon and Coir industry, Koth Duwa Temple are some of the popular excursions for visitors from the hotel.  The hotel also offers an excellent conference location with state-of-the-art facilities.
Heritance Ahungalla is just 76km or less than one hours drive from Colombo via E01 Highway.  For more details and reservation call 0915555000/ 0112308408 or log on to www.heritancehotels.com
comments powered by

Disqus