Backstage crosses over up front : Watch the band go live next Saturday
By Duvindi Illankoon
View(s):
The days of the young male octuple of 'Backstage' are spent by the desks of the corporate world. But by evening, their masks are off and they live the dream of playing and singing their hearts out.
Hirushka Fernando, Melantha Fernando, Shawishka Fernando, Rajind Siva, Shane Godwin, Suren DeMel, Lahiru DeSilva and Chinthu Viswakula formed the band some three years ago. Four of them had decided to play a song they'd sung since they were kids at a friend's wedding, and they hit it off with the crowd surprisingly well!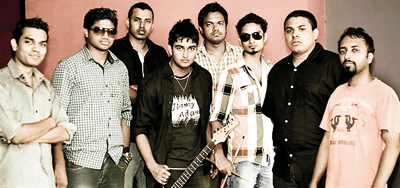 Then came  the idea of forming a band and playing for a few gigs, and they spoke to some more friends and formed the eight-man group that is now known as Backstage.  The guys have only played for weddings and functions so far, and are looking forward to changing things up with their first concert 'Gratitude'.
The title highlights the main purpose of the show, which is to thank the band's fans (significantly those of Hirushka's). Hirushka made it into the Top 6 of Season 2 of Yes FM Superstar, and maintains that he would not have got so far were it not for the fans who voted for him.
This is their own way of saying thank you. The show, will go onstage on  July 7 at the Park Street Mews, from 7pm onwards. Entrance is free. It's one you wouldn't want to miss-in addition to the band themselves, the Top 6 finalists of YSS Season 2 are set to belt out their tunes, covering a wide range of hits from the 60's, 70's, 80', 90's and the last decade.
Anticipate some familiar Sinhala tunes and Baila hits as well, as the band plans to add a touch of  Sri Lankan party-music to the evening.
comments powered by

Disqus