Ranawaka not rattled by ministry rat
View(s):

There was an unexpected visitor when Power and Energy Minister Patali Champika Ranawaka addressed the media on Thursday after taking part in a function where an agreement was signed to establish an early warning system to respond to nuclear accidents in Sri Lanka.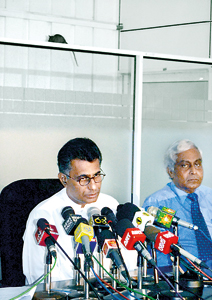 While the briefing was underway at the conference room of the Power and Energy Ministry, a rat crept from under the seats where the journalists were seated and climbed up a board that was behind the head table where the Minister sat along with several officials.
The rat's  entry to the hall  set off a few screeches from  among the lady reporters  but unperturbed,  the  rodent climbed the board and sat exactly overhead where Minister Ranawaka  was seated and remained so till the news conference was over. The minister was not rattled and had more important things to deal with at the news conference.
It was only after that it climbed down and scrambled away, much to the amusement of those present. Along with the mosquito menace the Government may be burdened with a rodent menace as well, noted some participants.
All or nothing: Soysa's threat to journalists
Deputy Education Minister Wijayamuni Soysa was attending a meeting at a school in Bandarawela last Thursday to discuss issues related to appointing a principal to a school in the area.
Media representatives were also invited along with the staff and parents. Before the event began, the Deputy Minister said he wanted his speech to be reported from start to finish. The journalists said it was difficult to carry out the Minister's diktat due to space constraints.
Deputy Minister Soysa seemed not convinced and ordered the reporters to leave the meeting.What a way to communicate with the public!
VIP sing-song on Airbus from Rio
After attending the Rio +20 summit, President Mahinda Rajapaksa and his entourage embarked on a 16-hour-long flight back to Colombo on a chartered SriLankan Airlines Airbus 340.
The flight made a stopover for refuelling and tea in Johannesburg in South Africa. After resuming the journey the ministers in the delegation started a sing song.
Ministers Wimal Weerawansa, Champika Ranawaka, Anura Priyadharshana Yapa, Mahinda Amaraweera and Western Provincial Minister Udaya Gammanpila joined in the singing. They used some musical instruments purchased in Brazil during their shopping spree.
After the sing song went on for about three hours, there was another joining in. It was Presidential Secretary Lalith Weeratunga, an accomplished musician in his own right. He brought with him a type of drum (dolki) and sang popular hits of the late C.T. Fernando.
Beef ban for police dogs
The Police Kennels Division has decided to stop feeding beef to dogs. They were given a daily meal of a kilogram of beef as their main diet. There are 285 dogs assigned to the Kennels Division and deployed island wide.
The dogs were found with stomach disorder, skin diseases and fever regularly in the recent past, said an officer of the Police Kennels Division. This was cited as the reason for banning beef for police dogs. However, what would replace beef is not clear.
Once jailed, now SB won't comment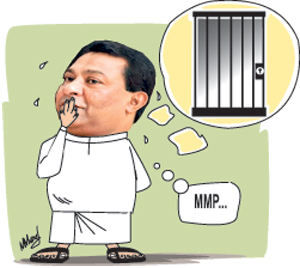 A media briefing was held at the Higher Education Ministry premises on the subject of the Supreme Court order on 'Z' score calculations.
Minister S.B. Dissanayake who once served a jail term for case of contempt of court after making a remark about the judiciary, this time made sure to avoid making comments or replying questions from the media about the judgment.
As the University Grants Commission Chairman Gamini Samaranayake said legal assistance will be sought to clarify the court order, journalists were questioning the minister on whether he thought that the judgment had any faults or whether he would continue with the present 'Z' score calculation method despite the court order.
"We will follow the court order, that's it. Please I was jailed once and cannot be going there for the second time," he said.
Bandula mum at Cabinet meeting
The "Z " score issue came up for discussion during last Wednesday's Cabinet meeting where Higher Education Minister S.B.Dissanayake gave a lengthy explanation for what caused the blunder.
After giving him a patient hearing, President Mahinda Rajapaksa said it was Minister Dissanayake and Minister Bandula Gunawardena who are at the receiving end of all the brickbats due to the fiasco and asked others to help them overcome this hurdle and not do anything to aggravate the situation.
All the time during the "Z" score discussion, one person who remained silent was none other than Education Minister Gunawardena who seemed to be at a loss for words.
Chamal speaker at Rajapaksa wedding also
The Galle Face Hotel, one of the country's oldest hotels, had an altogether new mask. Cutouts made it look different from the hotel that boasts of old world charm.
The occasion was the wedding of Minister Basil Rajapaksa's daughter.It was Speaker Chamal Rajapaksa who delivered the welcome address at the wedding ceremony. While he went on speaking, President Mahinda Rajapaksa remarked, "Meya parlimenthuwe vitharak nemei ape pawuleth kathanayaka" (He is not only Speaker of Parliament, but also speaker for our family.)
All family members were invited to the wedding. However, there were hardly any politicians invited. Only Ministers Gunaratne Weerakoon (Galle District) and Felix Perera (Gampaha District) were present.
The event was full of different varieties of food but no liquor was served. In addition to the choices of their own all invitees were given a plate full of "kurakkan thalapa, aanama (a sauce made of lentils to eat thalapa), a piece of kiribath (milk rice), lunu miris (chillie paste) and a piece of purple coloured raja ala. (king yam).
Z-score crisis: Ministers add to the muddle
Who speaks for the government and whose view is official? Is there anything called "official" and "unofficial" positions on any one given issue?
These questions have become relevant again over the controversial "Z" score issue which was shot down by the Supreme Court. Official government spokesperson Keheliya Rambukwella admitted it had a negative impact on the country's education system.
During his weekly post-cabinet news briefing, he conceded that the government would abide by the SC ruling and declared it was "quite concerned about what happened." That naturally means that the government was admitting that something had gone wrong.
However, Minister Wimal Weerawansa, widely regarded as the government's "political hit man" and reflects the inner thinking of the government on various issues, said the Z-score fiasco was not the fault of the government and hence Education Minister Bandula Gunawardena and Higher Education Minister S.B. Dissanayake could not be blamed.
Who blamed these two Ministers? – Well, well it was National Freedom Front's politburo member Piyasiri Wijenayaka. He is one of Weerawansa's right hand, sorry, left hand men. He announced that he had asked President Mahinda Rajapaksa to remove Ministers Gunawardena and Dissanayake.
He also wanted University Grants Commission chairman Gamini Samaranayake to resign.Weerawansa is the leader of the NFF. His own party cadres, not that many though, now ask whether their leader knew about Wijenayake's request. Or was it a case of Weeerawansa speaking for a section of the government. In the light of so many contradictions, the public may never know.
Victory for Nonis despite dissent
With the London fiasco now over, Sri Lanka's High Commissioner Chris Nonis fought it out again. This time it was to retain his second two-year term as vice president of the Royal Commonwealth Society. It is in the wake of strong lobbying by members of the British Tamil Forum.
At last Tuesday's elections to the RCS, all other posts were filled uncontested. When it came to the election of the vice president, the chairman asked whether there were any objections. Two members of the Society, who are also members of the BTF, raised issue.
The matter was put to vote. Nonis received 39 as against his nearest rival who polled only 12. Peter Kelner was elected RCS chairman earlier and Danny Sri Skandarajah as president.
It was no doubt a feather in Nonis' cap though it came after the dissenters recorded their protest in the RCS minutes. After all, the 2013 meeting of the Commonwealth Heads of Government is taking place in Sri Lanka.
Mayantha ousted from party post
Mayantha Dissanayake, son of the late Minister Gamini Dissanayake, has found himself ousted from the post of UNP organiser for the Uda Dumbara electorate. UNP insiders say the post has been given to another nominee.
Dissanayake's supporters say he has been penalised "for his family connections" whilst UNP leaders point out that the change was part of a routine reorganisation.
Mayantha is the brother of UPFA Cabinet Minister Navin Dissanayake. Navin's father-in-law Karu Jayasuriya is a former Deputy Leader of the UNP.
Air Force offers paradise golf
The Sri Lanka Air Force (SLAF) has started a special flight for golf players. They are ferried in their brand new air conditioned Mi 60 (50-seater) aircraft for a trip to Trincomalee in the morning and back in the evening. The price is Rs. 8,000 for the flight and a Rs. 6, 000 fee for golfing.
It is just about US$ 100 and makes it the least expensive golfing tour in the world. There is also an added attraction. For yesterday's flight, there was another bonus. The SLAF dance troupe was also on board to entertain the visitors after a game of golf.
This then, is paradise.
Mangala tells CBK: 'We want a party'
It was close friend Mangala Samaraweera who said "we want a party," when former President Chandrika Bandaranaike Kumaratunga turned 67 on Friday. Otherwise, she had decided to take it easy.
So Kumaratunga held a dinner for four others —  her sister Sunethra, Samaraweera, Pakiasothy Saravanamuttu, Mano Tittawala and Pathma Maharaja. It was at the Spoons Restaurant in the Colombo Hilton.  Yesterday morning, Kumaratunga left Colombo for Kenya.
Controversy over Parliament post
The appointment of a new Assistant Secretary General (ASG) to Parliament has run into some controversy with the post now remaining vacant since February this year. The post fell vacant after the previous ASG was promoted as Deputy SG.
Advertisements were placed calling for applications to fill the post and while several were received there was also an applicant from within the staff of Parliament. However, the staff has doubts whether merit and qualifications would be the only criteria.
How's this Babu throwing around Rolexes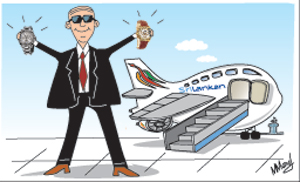 The local Babu has become the talking point in well informed flying circles for his newly developed ability to win friends and influence people.
The language he speaks to win business, insiders say, is not vocal. It is through expensive gifts to the movers and shakers who have developed rich tastes for life.
The talking point now is how he presented gold Rolex wrist watches to the husband and wife of a paradisiac outfit. He did not want to offend the next in line in the outfit, so he presented a silver Rolex to him.
MR shows his colours to Herath
Barely 48 hours before the dissolution of three provincial councils, Sabaragamuwa Chief Minister Maheepala Herath was taking part in a TV talk show titled 'Hathweni Peya' on the state-run Rupavahini.
When the programme ended, he received a telephone call. It was from 'Temple Trees' for an urgent meeting with President Mahinda Rajapaksa. The meeting was convened to discuss the dissolution of provincial councils. "Mahee hondata hathweni peye katha kala" (Mahee, you did very well at the Hathweni Peya), Rajapaksa commented on Herath's performance.
"Aei oya rathu pata kamisayak andey? Ethana background ekath rathu patai. Oyage kamiseth rathupatai. Dekama eka pata nisa oyage rupe ismathuwela penne nehe."  (Why did you wear a red shirt? The background was also red. Both your shirt and the background were in the same colour so your face doesn't stand out), Rajapaksa told Herath.
The episode made clear President Rajapaksa sometimes finds the time to watch TV talk shows where his government politicians take part.
Diplomatic blunders will boom in Diyatalawa
Come next week and heads of Sri Lanka diplomatic missions overseas will hold what is being touted in External Affairs Ministry circles as a "brain storming" session. It will be at the Army cantonment in salubrious Diyatalawa.
The idea is to identify shortcomings in the implementation of Sri Lanka's diplomacy in the capitals our diplomats serve and to rectify them. When the conference ends, senior EAM officials say the government plans a new diplomatic thrust. Of the 59 heads of mission taking part, only 15 are career foreign service officers.
The others are political appointees.
In an External Affairs Ministry where cynicism surpasses optimism, a witty e-mail is doing the rounds. Here are some highlights:
 staging a dpl fiasco and managing the media fallout — case study of the Sri Lanka High Commission in London.
 cutting costs in overseas missions. How to subcontract all activities to a PR or lobby firm. A head of Sri Lanka mission to visit Colombo every month on government account for a case study.
how to ignore anti-SL resolutions in the legislature of the host country and hide the damage from the SL political leadership, the case study of the a mission in the Americas.
 how to avoid losing a major trade concession like GSP+ and getting damned by the 27 member European Union. A case study of the diplomatic mission in Brussels.
how to emulate the first foreign service officer ever, to campaign in a local election in SL for the ruling party while working in a western capital and win a reward of a ten-year continuous stay abroad with ambassador's salary.
 how to victimise and marginalise efficient career diplonuts who refuse to  engage in illegal and other activities that are taboo for State officers.
How to write your own press releases after a meeting at a bar, cafe or car park and get it published in the Sri Lankan newspapers.
Some EAM officials say the event should have been held in Colombo allowing the heads of missions to interact with various international and local agencies relevant to their capitals. "Colombo is a distraction. A military camp is the best place where they could focus without any disturbance," argued another.
The first non-military conclave in the Diyatalawa Military Academy precincts took place earlier this year when all government ministers and parliamentarians gathered for a dialogue.
comments powered by

Disqus