Above a cheap mobile phone shop in a chaotic street in north Delhi, there is a grimy apartment whose peeling walls are decorated with photographs of adoring mothers nursing their babies. The woman cooing at her child in the biggest portrait is beautiful, white and affluent-looking - in stark contrast to the flat's five residents, four of whom are pregnant, while the other is being pumped full of hormones in the hope she will soon conceive.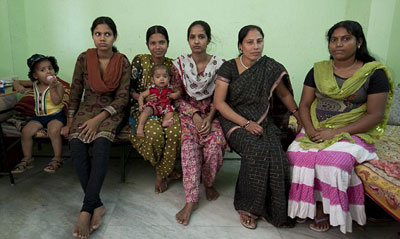 Baby-making factory:Eggs from Eastern Europeans, sperm from wealthy Westerners and embryos implanted in desperate women
They are all uneducated, bare-footed, dirt-poor Indian women from outlying villages - and given the emotional turmoil that awaits them, one would have thought the very last thing they would wish to do is spend their enforced nine months of confinement here gazing upon images of maternal bliss.
Nominally, this forlorn place is a care home for surrogate mothers - at least that is how it is described by the company that runs it, Wyzax Surrogacy Consultancy, which is cashing in on India's booming new babies-for-sale business.
It boasts of being the country's first 'one-stop shop for outsourced pregnancy'. In truth, though, it is nothing less than a baby factory; the end of a grim production line on which children are being designed to order for wealthy couples, mainly from Western countries including Britain, as if they were custom-built cars.
Indeed, as I have discovered during an eye-opening three-week investigation into India's burgeoning, billion-dollar surrogacy industry, the motor-manufacturing analogy is all too apt.
For under an astonishing - and many will think nightmarishly futuristic - programme devised to make the most efficient use of resources, or 'optimise' their baby producing system, as they put it, Wyzax and their partner agencies now source and assemble the 'components' of some babies in a variety of different countries before flying the resulting embryo to India to be implanted in the surrogate.
According to the Delhi-based agency's whizz-kid young bosses, Vivek Kohli and Jagatjeet Singh, they do this for a small but growing number of clients - about 15 per cent - who, for various reasons, don't wish to use Indian eggs or an Indian fertility clinic, or even set foot in India until they take delivery of the baby they have ordered.
For all their apparent desperation to start families, these so called 'IPs', or intended parents, have also become ever-more demanding in their specifications; many want babies who emanate from a gene pool which maximises the possibility that they will not only resemble them but have, say, blond hair and blue eyes (and hopefully be attractive, sporty and intelligent into the bargain).
© Daily Mail, London