PARIS, May 5 (AFP) France got a one-day respite from political campaigning Saturday on the eve of a presidential vote that incumbent Nicolas Sarkozy said will deliver a "surprise" despite the opinion polls.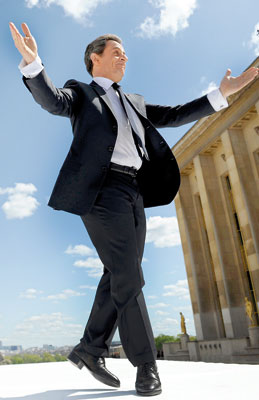 France's incumbent president and Union for a Popular Movement (UMP) party candidate for the French 2012 presidential election Nicolas Sarkozy arrives on stage to give a speech during a campaign meeting (AFP)
Recent voter surveys have suggested Socialist Francois Hollande is on course for victory, but Sarkozy insisted in his final election rally in the western coastal town of Sables d'Olonne Friday that it is too close to call.
"I want to convince you of one thing: every vote will count," Sarkozy told supporters. "You cannot imagine at what point things will play on a razor's edge on Sunday." And he told Europe 1 radio: "You'll see a big surprise" at Sunday's vote.
Hollande meanwhile urged voters to hand him a clear win Sunday so he would have a strong mandate to implement his left-wing programme and fight EU-driven austerity.
"I want an ample victory," Hollande told RTL radio. "If the French people must make a choice, they should do so clearly, overwhelmingly, so the winner has the capacity and means to act."
The French left has not won a presidential election in a quarter of a century, but fears over low economic growth, rising joblessness and European Union-imposed austerity measures have worked in favour of the Socialists.
Many voters also disapprove of Sarkozy's flashy style during his five-year term, welcoming Hollande's vows to be a "normal president." Sarkozy has moved increasingly to the right ahead of the second round, vowing to defend French values, limit immigration and strengthen France's borders.