DJ Sunara
Young and freshly minted, Sunara Jayamanne began DJing just last year. Though always interested in music, particularly in learning an instrument, Sunara had not considered trying her hand at being a DJ. She first became curious while watching close friends like Asvajit, Geve and Twiggy do their thing behind the controller. "It was quite interesting," she says, explaining that she wanted very much to discover her own music, a different genre. "After I figured out the basics, it came naturally after that."
Sunara has developed a taste for glitch hop which she describes as funky and chilled out. She now downloads all her own music, relying on the internet to ferret out new tracks and interesting artists. In the last year, she's performed at events sponsored by the Goethe Institute and more recently for the Colombo Art Biennale.
She's also an artist and considers that her day job. When it comes to being a DJ, she knows she is atypical. Clearly, Sri Lankan girls are still hesitant to take on this kind of thing Sunara notes, but she's convinced that's changing. "I see a lot more girls coming to our parties," she says, "it's really nice to see and I hope it will encourage more girls to get involved." For Sunara herself, there's plenty to love about the job. She enjoys connecting with people and sharing her music with them. For her the pact between DJ and dancer is a special one: "It's all about experiencing freedom together," she says.
Find her online by looking for 'Sunara:-)' on Facebook or listen to her track 'Duck Walk' at http://soundcloud.com/sunara/duck-walk
DJ Missy Flame
Shanaki Perera has been in the business long enough to develop something of a reputation. She began in 2003 working at Bistro Latino. "I worked there for six months and learnt everything from the DJs there," she says. Like Sunara, Shanaki was interested in becoming a musician and had even studied the piano for a while, though she didn't sustain it.
At the invitation of a friend, she tried her hand at being a DJ and found that she loved it. "I make people happy with the music I play," she says.
Though she's a fan of retro - "I'm a 60's, 70's and 80's girl" – Shanaki says she tends to play house and electronic music when DJing at a club. She also has a big weakness for jazz and says she enjoys melding the two together, finding tracks in which jazz vocals are blended with EDM.
Shanaki works in advertising but counts herself lucky because her family is incredibly supportive of her alternate career – "otherwise I'd never have been able to do it." In fact her mother helped her come up with a stage name.
"It was a bit tough for me in the first months," she says, explaining that it's always hard to please everyone in the crowd and that the hours were long. She's learning constantly though, and says the guys in the trade – such as DJ Steven and DJ Academy's DJ Tariq - have been supportive and generous with their know-how.
Find Shanaki online at http://www.facebook.com/deejmissyflame
DJ Kc Grey
Shyami Mahendra has always been fascinated by the idea of becoming a DJ and she didn't want to let being a girl get in the way. "DJing was until a few years ago more of a man's playground…so breaking in to that was a bit difficult…You have to really be committed to do it and it's difficult for any person to have a nine to five job and be a DJ," she says. Somehow, Shyami (who works as a secretary in a reputed company) manages to do both.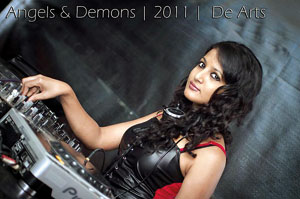 Most of her work is at events rather than in the clubs, which she says don't always value DJs as they should. Wherever she plays, she goes by the handle Kc Grey – she chose it because she wanted a catchy stage name, "something classy and sexy." Shyami loves playing for a crowd: "seeing them dance and be happy, enjoying my spin - you can't get that happiness from anywhere. It's like I have won the world," she says. Her playlist is diverse and though she likes house music the best, Shyami says she always picks her music to suit the event. "I believe you should play what the crowd wants and not what you want," she says bluntly.
Though she has mastered the basics, Shyami enrolled in the DJ academy in 2009 and was mentored by DJ Tariq (TQ) and DJ TGK (Thanujika) – it's where she picked up a few handy tricks. She's glad she had the opportunity. "The more experienced DJs are more or less secure of their fan base and will play and be confident about it. Some DJ's may not be and can get very territorial," she says, adding philosophically, "You gotta do what you gotta do and play on."
Find Shyami online at http://www.facebook.com/KcGrey