Eddie Anstey is on his 40th visit to Sri Lanka. Accompanied by his beautiful wife Phil, this is not just another Englishman and he certainly is not just another tourist. Eddie is a former Royal Air Force officer who was stationed in Sri Lanka from 1955-1958, when he promptly fell in love with the local culture and way of life.
"I have a back-ache back home that disappears as soon as I come to Sri Lanka," Eddie laughs. "I love everything here. The people, the climate, the way of life…except for the smell of fish frying!," the latter a laughing comment thrown in the direction of the kitchen at his friend K. L.F. Wijedasa's home, where lunch is being prepared as we talk.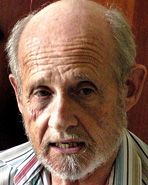 At home: Among friends in Sri Lanka. Pic by Athula Devapriya
His wife Phil is quick to agree. "I come with Eddie here on his visits more often than not. Only thing we disagree on is accommodation. I like my air conditioning and hotels, while Eddie much prefers staying with his local friends and lounging around in sarongs."
It's a love for the local way of life that he discovered as an instrument mechanic serving in the RAF base in Sri Lanka, or Ceylon, as it was known back then. Born in 1937 (two years before the outbreak of the Second World War) and evacuated to the countryside as a young boy, Eddie joined the RAF as soon as he turned 18; because "he couldn't think of anything else to do.''
Life in Sri Lanka turned out to be an education. The highlights? "The girls!' Phil rolls her eyes and he is quick to clarify. 'There were all these beautiful Ceylonese girls, and their mothers would warn them to stay away from the English. So there were us lads ogling them but being completely ignored."
In 1958, he moved back to England, and then joined the Ministry of Defence in 1959. He was part of the Royal Aircraft Establishment as a junior scientist, eventually making it to Principal Scientific Officer. His regular visits to Sri Lanka were initiated by a twist of fate. "Sri Lanka was always in my heart. My home in UK is called 'Negombo'," he smiles.
"I read a story in a British newspaper about the cricketer Vivian Richards adopting (sponsoring) a disadvantaged child. And they had also mentioned that they were looking for people to support children from a set of countries that had Sri Lanka on the list. I was so intrigued that I actually cut it out, and left it on the coffee table, to talk over it with my wife later. Of course, I promptly forgot all about it! Then one day we get this letter addressed to a Mr. Anstey, with details about Sri Lankan children up for adoption.
I actually thought my wife had sent it off-but she hadn't. We had, by some twist of fate, got a letter meant for another Mr. Anstey! But we did make contact, and that's how I met Mr. Wijedasa," the two friends share a smile. 'He was the Sponsor Relations Manager for Christian Children's Fund (now known as Child Fund International) and in 1991, we arranged to see the child we would sponsor.'
The Anstey's now sponsor four children-and they're all girls. The couple are strong believers in sponsoring girls. Eddie explains, "if you educate a girl, you educate a mother who will also educate a child. Anyway, girls are smarter. It's a fact!"
These children that he's adopted, the ones he call 'his children', have left their footprints in his heart. They all write to him-in Sinhala! "Initially, they would write to me through the agency; but then I picked up some Sinhala, and I encouraged them to write directly to me. That's a great confidence booster for them, and I always read those letters word for word. If things get difficult- there's always the dictionary.
And sometimes, the dictionary makes mistakes which I even spot!" The joy he finds in conversation with these children is palpable. He recalls one child he had supported writing to him, saying that there were a million stars in the sky, but for her, he was the moon, the brightest of them all. Another would write to him of her excellent progress in school, explaining that she was motivated because she felt that would be the only way she could repay him. Eddie keeps in touch with them long after they are grown and married; he is content to find that they live fulfilling and happy lives. 'That's what matters," he says.
His many visits to Sri Lanka come complete with many hilarious anecdotes. Perhaps the most memorable was when he was mistaken for Arthur C. Clarke by schoolchildren. He grins mischievously. 'What could I do? I smiled and waved and had my share of the fun!'
This Englishman has had the rare privilege of seeing Sri Lanka change through more than half a century. I ask him what stands out the most? He tells me that it is the lack of bullock carts and people chewing betel on the roads. "You know what hasn't changed though" he smiles, " the people's hospitality. That's still the same. My Sri Lankan friends and the people I meet through my work here are incredible.'
He and his wife will head back to England only to return a couple of months later with their children and grandchildren, whom he wants to introduce to his adopted family here in Sri Lanka. They will greet each other and share stories; a collective memory that they'll share for the rest of their lives thanks to an Englishman who fell in love with a little island on the Indian Ocean, almost 60 years ago.