They are not born free but under grand plans on the drawing boards of the National Zoological Gardens at Dehiwela, they will live free under the Special Leopard Conservation Project to be launched next month.
Under this project, eager men, women and children will be able to see sleek and beautiful leopards sauntering around in a natural environment rather than pacing up and down in restricted cages, the Sunday Times learns.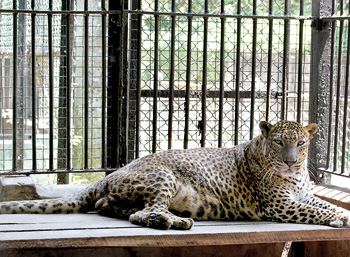 A caged beauty at the Dehiwela Zoo. Pic by M.A. Pushpa Kumara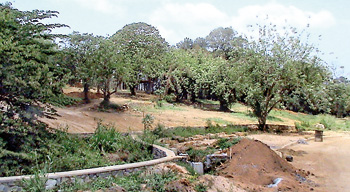 The area demarcated for the leopards
We are setting up a 'Free Leopard Zone' at Vagolla in Pinnawela, close to where the Elephant Orphanage is sited, explained the Director of the Department of National Zoological Gardens, Bhashwara Senanka Gunarathna, reiterating that they are not re-locating the Zoo.
In addition to the leopards, he said, they would relocate the excess animals of each species at the 44-acre Vagolla site, as unlike in some other countries Sri Lanka does not cull or euthanize them. Citing the example of deer, he said there is overcrowding at the Dehiwela Zoo because there are many animals of this species.
Referring specifically to leopards, Mr. Gunarathna said the Free Leopard Zones would have the primary objective of conservation, as this Big Cat species is not only endemic but also endangered. A subsidiary benefit would be the funds that would flow in from visitors, both foreign and local, who wish to see them in their natural habitat, it is learnt.
We also want the world to know that in addition to the majestic elephant, Sri Lanka has the leopard, he said, pointing out that even under the Hambantota New Safari Park, there would be a separate zone for these spotted felines. There is tremendous potential for tourism as the leopards can be seen in the semi-wild.
The 500-acre Safari Park is at Ridiyagama close to the Madunagala Sanctuary and 40 acres would be for leopards, he said. Explaining the expansion of the facilities at the Dehiwela Zoo, the Director said a well-equipped nursery has been set up for leopard cubs. The approach towards rearing cubs would be scientific, with Veterinary Surgeons and other staff being hands on.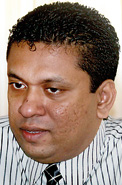 Mr. Gunarathna
Dealing with the Master Plan for the development of the Zoo, Mr. Gunarathna said facilities for the disabled have been introduced, new toilets constructed and the restaurant upgraded. "You must see the complaints made earlier about the facilities," he says.
Moving to Vagolla, he said that the plan includes two viewing decks and an underground tunnel blending with the environment to give a close-up view of leopards without disturbing them.
There will also be a leopard-specific souvenir shop to educate people while the building is inspired by the traditional Sri Lankan architecture of that area. It is being built on the lines of the environment-friendly Tampita Viharaya at Rambukkana, it is learnt.
The environment and animal– it will be a holistic approach, he adds.