The Dehiwala Zoo is looking for a female companion for a male camel, following the death of its partner reportedly due to a misdiagnosis Director Bashwara S.Gunaratna told the Sunday Times they have contacted zoos in India, Moscow and Pakistan regarding an exchange programme, sending an animal in exchange for a partner for Bindu, the male camel. He said they are also looking at the possibility of getting a camel without sending an animal from the Dehiwala zoo.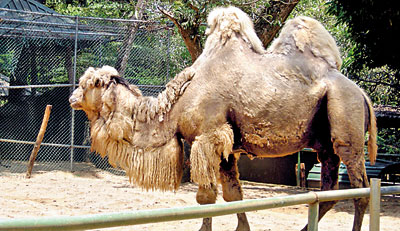 Pining for Rosi: Bindu at the zoo on Friday. Pic by Athula Devapriya
Rosi the she camel arrived at the zoo on September 18, 2004. The eight-year-old animal was taken ill and the veterinarians believed she was pregnant and treated her accordingly. But it was later found that she was suffering from indigestion complications.
Dr. Samanthi Mendis who looked after Rosi said the animal fell sick frequently. She had also been pregnant before but had miscarried. Since the animal had shown similar symptoms they thought Rosie was with young once again.
"When an animal falls sick the vets diagnose the problem and suggest what steps to take. We provide the necessary medications and equipment. If they are not available at the zoo we get them from outside," Mr. Gunaratna said.
He said the vets usually keep a record of each animal including details of various afflictions. In this instance the record stated Rosie was pregnant. Mr. Gunaratna said if the vet had raised any doubts they would have subjected the animal to more tests. "When we suggested a scan the vet said she could physically feel the unborn young and a scan was not necessary," he said.
Mr. Gunaratna said a probe was on and strict action would be taken. However, the director added that this wasn't the first time incidents like this had taken place. "There was a case where a male capybara was operated only to reveal that it was pregnant. There have been other instances of misdiagnosis and wrong medication.
The director added that an internal inquiry will be conducted and action taken against professional negligence. "After we handle the first part of the investigation we will hand it over to the Animal Production and Health Department," he said.
"We will not put the veterinarian in trouble but take steps to prevent cases like this happening in the future," Mr. Gunaratna said.