The Nandikadal Lagoon, scene of the final struggle between government troops and the LTTE, was opened to the public recently – three years after the war ended. De-mining has been completed in most of the lagoon area, and the majority of Nandikadal residents have been resettled in their villages. Fishing, the main livelihood of families in the lagoon area, has resumed.
Mullaitivu district secretary N. Ehanayagan told the Sunday Times that some 1,000 fisher families depend on the lagoon for a living, and that resettlement was held up for security reasons.
Army spokesperson, Brigadier Ruwan Wanigasuriya, told the Sunday Times that the fisher families were resettled once security checks were completed and the area declared safe to return to. The de-mining teams found the lagoon and the land around it thick with live explosives and landmines.
De-mining continues in Vellamullivaikkal and Ambalavala Pokkani, while resettlement has been completed in Wattrapalai, and continues in Mullivaikaal, east of Puthukudyiruppu and Thepapalai.
Thepapalai is under the control of the Sri Lanka Air Force and will not be open for resettlement. Thepapalai families are waiting till they are found a place to be resettled. Nandikadal Lagoon has an average depth of five feet and is rich in prawns, mud crabs and small fish. The bulk of the catch is sent to Colombo, and excess stocks marketed in Mullaitivu.
Brigadier Wanigasuriya said the Army had no objections to fishermen from other areas using the Nandikadal Lagoon, but Nandikadal residents, who are heavily dependent on lagoon fishing, would not welcome outsiders, he said. Fishermen's societies in Mullaitivu do not allow fishermen from other areas to fish in Nandikadal waters.
Chairman of Pakistan's Joint Chiefs of Staff here on 5-day visit
Chairman of Pakistan's Joint Chiefs of Staff Committee, General Khalid Shameem Wynne, NI (M), is scheduled to visit Sri Lanka today on a five-day visit. He has been invited by Chief of Defence Staff, Air Chief Marshal Roshan Goonetileke.
During his stay in Sri Lanka, General Khalid Shameem Wynne will meet President Mahinda Rajapaksa, Defence Secretary, Chief of Defence Staff and Sri Lanka's three Service Commanders. He is also expected to visit the Northern and Eastern Provinces, including Kilinochchi and Trincomalee during his stay here.
On March 21, General Wynne will be Chief Guest at the launch of Pakistan's National Defence University (NDU) Alumni Chapter in Sri Lanka, a platform for Sri Lankan Officers of all three Services, who attended training courses at Pakistan's National Defence University, Islamabad.
SLFP will not tolerate criminal behaviour among party members, says its Gen-Sec.
Local council members of the Sri Lanka Freedom Party (SLFP) found guilty of criminal activities, including murder, rape and extortion, will be expelled from the party, said SLFP General Secretary and Minister Maithiripala Sirisena. The announcement follows an increase in complaints of criminal behaviour among party members.
The SLFP has called for a report from the Inspector General of Police N.K. Illangakoon about local council members' involvement in crime. Meanwhile, SLFP electoral organisers have been warned that they would lose their posts if they failed to report complaints against local councillors or made false reports.
This week, a UPFA Pradeshiya Sabha member was arrested in connection with the Kahawatte double murder, in which a mother and daughter were killed. In another case, a Pradeshiya Sabha member of Weligapola, Ratnapura, surrendered in connection with the murder of a youth.
In yet another case, the Deputy Chairman of the Narammal Pradeshiya Sabha has been charged with assault.
Paramedics' strike: Unions warn action will continue
The ongoing paramedics strike in State-run hospitals will continue , trade unionists warn.
Last week, paramedics including laboratory technicians, pharmacists, radiographers, physiotherapists and the occupational therapy unit in State hospitals went on strike, inconveniencing thousands of patients.
"The demands were to revise the allowances and give an allowance to those in upper grades. The other demand was to recruit more graduates in the field of para-medicine," Joint Council Professional Supplementary Medicine Union Secretary Saman Jayasekare said.
On Thursday, the union suspended the strike for discussions with the Finance ministry, but resumed it on Friday. "The Health ministry and the Treasury officials failed to meet our demands. The strike will continue until our demands are taken seriously," he said.
However, paramedics at Lady Ridgeway, Sirimavo Bandaranaike Hospital in Peradeniya, De Soyza and Castle Street Maternity hospitals, Cancer Institute in Maharagama and the Blood Bank are not participating in the strike.
The Health Ministry, in a special statement yesterday, said it was concerned about the inconvenience caused by the strike, and that, steps to resolve this issue were taken following discussions with the Finance Ministry.
"The allowances to all grades will be increased by Rs. 500 and the Treasury has agreed to pay an allowance for those in special grades," a statement said.
Lanka committed to protecting the dugong
Sri Lanka has pledged its support for the long-term survival of the dugong and the protection of the sea mammal's habitat.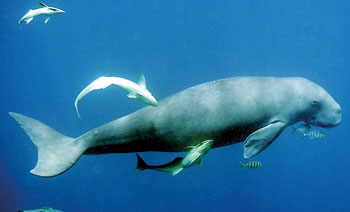 The dugong (Dugong dugon), also known as the "sea cow"
Udeni Wickramasinghe, Secretary of the Agrarian and Wildlife Ministry, signed a memorandum of understanding on the conservation and management of dugongs on behalf of the Department of Wildlife Conservation (DWC). The agreement, which comes under the United Nation's Environment Program (UNEP) and the Convention of Migratory Species (CMS), was signed in Abu Dhabi recently.
The dugong (Dugong dugon), also known as the "sea cow" or Muhudu ura in Sinhala, is a large, long-lived marine mammal that feeds almost exclusively on sea grass. The animal has a significant ecological role in coastal ecosystems. Dugongs are found in warm coastal and island waters around more than 40 countries in the Indo-Pacific region.
In Sri Lanka, the animal is found in the seas between Colombo and Jaffna, especially in the Gulf of Mannar and Palk Bay area, which is rich in sea grass beds and mangrove forests. Dugongs are considered "vulnerable to extinction". The mammal can live up to 70 years, but is slow to mature and breed. The female will bear just one calf after a 14-month pregnancy.
Dugong sightings are becoming increasingly rare. Marine naturalist Prasanna Weerakkody says the government plans to develop the Kalpitiya islands as a tourism zone, and if this happens it could have an adverse effect on the dugong population.