It's February and it's all systems go for HSBC Colombo Fashion Week which takes place on February 24, 25 and 26. This year the HSBC Colombo Fashion has collaborated with five retailers creating a designer retailer programme to provide Sri Lankan designers the much needed exposure and opportunity to expand their retail presence and business growth in Sri Lanka.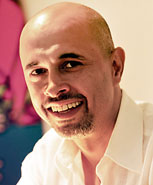 Ajai Vir Singh
Under this programme, five established retailers Trunk, Cantaloupe Boutique, Aakshii, Melache and Cotton Collection will provide Sri Lankan designers the necessary infrastructure as well as the customer base to market and sell their designs.
This would mean post Colombo Fashion Week, fashion fans would be able to immediately head to one of these retailers to purchase items from the collection shown on the ramp
Far from being just a glamorous fashion show, HSBC CFW's aim has from the beginning been to raise the standards of the local designers. Having worked on this ethos for over nine years, consumers are now showing the change as local designer clothing becomes increasingly sought after.
This trend has seen an increase in homegrown labels, changing the pattern of what consumers want and look for. It is now considered "chic" to wear a Sri Lankan designed outfit.
CFW President and Director, Ajai Vir Singh said, "Our objective has always been to create opportunities for new and established Sri Lankan designers domestically and internationally. This year, CFW has taken focused steps to enhance these objectives by creating strategic alliances and ventures that would provide a cohesive platform for designers and the fashion industry in Sri Lanka from a holistic perspective."
Our focus by tying up with the retailers is to increase commercial activity, Singh added.
Being the only South Asian country fashion extravaganza that represents many international designers from the region, CFW has also now been positioned and seen as the hub for Spring/Summer resort wear.
The chosen five:
TRUNK has two outlets - one in the lobby of Cinnamon Grand Hotel and the other in the shopping promenade at Galle Face Hotel. With more than 15 designers, TRUNK features a wide variety of clothing, shoes and accessories.
Since opening its doors, Cantaloupe Boutique (CB), has attracted and built up an eclectic following. Linen & Life, Yolanda Aluvihare, Arugambay, String Hopper, Conscience, Red Cocoon and Buddhi Batiks are some of the local designers that work in partnership with them.
Tucked away in a leafy corner of Cinnamon Gardens, the exclusive boutique Aashkii houses the designs of the likes of Satya Paul, and Lankan labels such as 79 and their very own Aashkii Label. Melaché is the first Sri Lankan fashion boutique that houses the best new Sri Lankan brands under one roof. This store was created as a platform for local designers, most of whom are the products of Colombo Fashion Week which has been a highly supportive event for this store and its concept.
In December 2011, Cotton Collection launched its flagship store at 143 Dharmapala Mawatha Colombo 7. World renowned brands such as Levis, Hidesign, Crocodile, Nike and PICARD are currently in-store along with Sri Lankan brands with international reach such as Avirate, Arugambay, Carlo & Spa Ceylon. The store has also introduced one of Sri Lanka's eminent fashion designers, KT by KT Brown for Cotton Collection.