Just 5 more days for the opening night… As the students of Asian International School are tirelessly singing and dancing, day in and day out, gearing up for three days of production, we hope YOU are ready for "The Best of Broadway." The production promises to be one like never before, showcasing songs from a broad spectrum of Broadway shows. The cast is represented by students from Primary all the way to Advanced Level.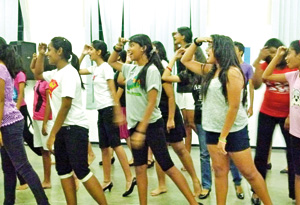 There is something in the show for everyone. "The Best of Broadway" has it all: from old time classics that one can sing along to, to the numbers that capture your heart and the songs that will make you get up and dance. We will take you on a journey that you will no doubt revel in.
From spectacular sets that transport you from humdrum everyday life, vibrant costumes that portray the essence of authentic Broadway, lighting that creates the perfect ambience, a live band that accentuates each beat and step of the choreography, we will have you, the audience, whisked away into the realm of enchantment that Broadway is reputed for.
Directed by Vinodh Senadeera with musical assistance by Natalie Gooneratne, the performances will be staged on the 10th, 11th and 12th of February at the Lionel Wendt. Organised by the Prefects' Guild and choreographed mainly by senior student Tara Weerasinghe, it is truly driven by the effort of students. This promises to be a night where you will be impressed by the talents and hard work put forward by the cast and crew of "The Best of Broadway."