The name 'Osilmo Special Education and Research Centre for Autistic Children' may not seem familiar but last Monday, its founder was honoured for his sterling work in a field that is little highlighted.
Dr. Sinniah Thevananthan, 40, founder of the 'Osilmo Special Education and Research Center for Autistic Children' was selected as the 'Volunteer of the Year' at the V awards ceremony organized by IYV+10 National Steering Committee in collaboration with News 1st for his outstanding contributions in the arena of active volunteerism.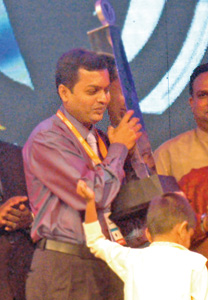 Dr. Thevananthan with his award: Recognition of his silent work. Pix by Nilan Maligaspe
He works tirelessly to ensure the same rights, freedom and opportunities for children with autism that other children enjoy; to help them build their own life without being a burden to society and to build a society that will accept them for who they are without looking down at them because in his words 'The child is not a problem, the child has a problem'.
A wall hanging with the words- 'Don't you know I'm trying to show you who I am. The world maybe cruel in my times of desperation, can't find words to express how I feel so I strike in pain and frustration. I might not speak but my feelings are clear' spells it out as we enter the centre in Boralesgamuwa. Anuradha Ahangama, who is in charge of the centre leads us to a room painted in pleasing blue to meet Dr. Thevananthan.
Dr. Thevananthan started the centre two years ago but has done research in this field for 7-8 years. He started it with his own funds but now runs it with assistance of the parents of the children he helps. He saw the difficulties of autism first hand as his brother was autistic and his intention is to help parents cope with challenges.
A complex developmental disability, autism is the result of a neurological disorder that has an effect on normal brain function, affecting development of the person's communication and social interaction skills, which he says simply is a brain like a tangled thread ball; it demands much attention and patience to untangle.
Osilmo provides care for a few hours and the children are then back home. Dr. Thevananthan points out that this is not practical.
"We don't have proper facilities to keep them here and treat them. If we could keep and treat the child then the task would be easier." The centre is at a rented house and the facilities are limited. They need more money and help to make the place more productive and build a hostel for children to come, stay and be treated till they are better.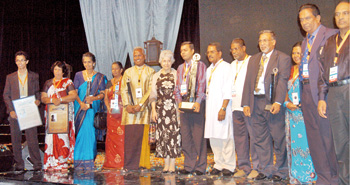 Finalists with officials and organisers at the awards night
"We don't give any medicine, we use only methods of speech therapy, occupational therapy, behavioural and music therapy and other treatments like acupuncture," said the doctor. "When a child comes to us we examine him/her and if we are sure we can help the child we take on the task".
He has praise for parents with autistic children. "They go through a lot. Society looks down upon them. They say that a bad karma has punished them or they blame them for having a child who is not brought up properly. We have to build a society that is more responsible and gives these autistic children the place they deserve.'
In other countries autistic children are given special attention, he adds. "Parents don't have to stay in queues to see a doctor. These children are given priority because it is hard to control a child like this in public places but unfortunately in Sri Lanka that door is not open yet." For more information about the centre visit their official website at www.osilmo.com
V Awards was initiated early in 2011 by the IYV+10 National Steering Committee in collaboration with News 1st, as 2011 marked the 10th anniversary of the International Year of Volunteers (IYV+10).
The seven finalists
Damitha Senaka Karunaratne, founder of the Kosala Dullewa Foundation (KDF) for children with special needs who works towards social inclusion of these children.
Heenbanda Trimanna Hettiarachchi from Anuradhapura, who serves his community as a care provider of Ayurveda preparations and special medical practices.
Kumari Dharmarathne who helped the villagers of Wanaraniya reactivate the Women's Welfare Society in the village, building houses for widows and providing sanitized water for over 170 houses. Kushil Gunesekara who has dedicated his life and wealth to uplifting the lives of over 25,000 people through his Foundation for Goodness helping them fight poverty through productive activities.
Lakshmi Ratnayake who initiated volunteer service at Sri Lanka Sumithrayo, a charity working in the field of suicide prevention.
Pearl Marigold George Steven who set up the Women's Empowerment Centre in Mulgampola, Kandy for women and children who have been abused and living under hardships.
Sharmini Perera, founder of 'Home of Hope' that cares for children who are victims of abuse and abduction or who had been disowned by their families. There are 83 children at the 'Home of Hope'.