MINUWANGODA, Dewalapola -- A tall building, which dwarfs other buildings around it, in a completely rural setting in the midst of large stretches of paddy fields in this Gampaha district village is where B.K. Maheepala is churning out dozens of a unique machine that's slowly drawing attractions from across the world.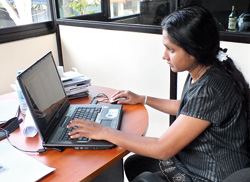 Menik Buddhini
Pioneering inventor of Cashew Shelling Machines (CSMs), Mr Maheepala's factory or workplace Buddi Industries (Pvt) Ltd. on Kamaragoda Road, Ganhimulla has a workforce of 40 people, busy all the time.
The CSMs have been purchased by small and large scale producers in countries like India, Vietnam, Indonesia, Thailand, Mozambique, Ghana, Togo, Benin, Kenya, Tanzania and Ivory Coast.
He began his career as a wayside watch repairman around 1980 and now has astonished the world's agricultural industry supplying CSMs to almost the entire cashew producers countries in the world – an extraordinary genius of a different calibre.
No formal qualifications or training, Buddhi Industries' Managing Director studied at the small Dewalapola Ananda MV and passed the GCE O/L. He had little knowledge of English or IT and no modern technological background, but turned out to be a visionary in technology.
Eight kilometers away from Minuwangoda, the Business Times (BT) visited the CSM manufacturing complex to meet this technology wizard seated in his glass paneled office. The glass panels in the office at a higher level enable him to monitor the entire manufacturing process in a hall below.
The workers operate lathe-machines, bending and cutting tools, shouldering, etc. In the office, his daughter Menik Buddhini works on a laptop computer. The company is managed by the father, son and two daughters.

The unique machine
Journey to the top
Sipping a cup of tea, Mr Maheepala explained to the BT his arduous journey to where he is now, saying, "The Cashew Shelling Machine I have invented and is marketed all over the world is the only one of its kind in the world. I have got the Sri Lanka patents and have already applied for international patents as some countries have apparently begun imitating my model".
He said, "The main exports now in the country are tea, rubber and coconut and since recent times readymade garments. If I get the necessary land for expansion and little space of time, I would be able to make CSMs also a top export earner for Sri Lanka. The new factory could offer 300 to 400 jobs for rural youth."
Mr Maheepala said there is a tremendous demand for CSMs around the world, while his machines are used all over Sri Lanka, too. The workplace turns out around 50 to 75 CSMs per month and wants to increase production by three fold to 150 to 200 all which could be sold like 'hot cake'. But the barrier for expansion is lack of land.
He also intends to manufacture an entire range of machinery. While national acclamations and accolades for M 171 – CSM, have been plenty, as far back as 2001 Mr Maheepala was recognized and honoured by the United Nations New Inventors' Forum for Agriculture at a function held in Geneva, Switzerland for his contribution to world agriculture and awarded a Gold Medal.
Buddhi Industries has manufactured around 2,000 CSMs so far and the rate of manufacture per month ranges from 50 to 75, out of which local sales consists only 5% while 95% is exported to all the cashew producing countries. A CSM costs less than Rs 200,000. The latest model M 171 is fully automated and a load fed the machine sucks one nut after another.
Copycat machines
This pioneering inventor says his biggest concern is others producing copycat machines which is easy as the world is filled with 'copycats'. He developed everything by himself with trial and error, dismantling and resetting, coupled with his mind-power.
The traditional and ages-old cashew shelling and processing has been a cottage industry and involves a tiresome and arduous process where each nut is crushed with a short wooden pole, usually by village women.
When the cashew is crushed, the shell oozes a juice that sticks a dark coating on the skin which takes a few weeks to peel off the coating. So, before crushing the shell these women cover a large part of their arms with cloths wrapped around.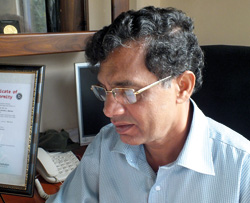 B.K. Maheepala. Pic by Quintus Perera
Cashew is grown largely in areas like Puttalam, Eravur, Hambantota and other far away areas. Minuwangoda also has some cashew plantations. Venturing into other areas, Mr Maheepala created various machine for local small industries like Murukku making, kneading flour for patties making and groundnut pealing.
In around 1997, realizing the difficult process of cashew shelling he was determined to invent a machine to replace the manual operation. It took two years to develop this machinery, putting his heart and soul into the operation.
Life-savings
In the process he found some minor defects. To ensure a perfect product, he put his life-savings into the work, asked his wife to rough out and sparingly bring up the three children for one year. He moved to a tin-sheet hut at a corner of the compound and continued working on his invention equipped with few hand tools and a lathe machine.
After a year, the M 171 CSM masterpiece was perfected. His first CSM was sold to Sri Lanka Cashew Corporation and on 29 May 1999 his invention was acclaimed and he received Rs 30,000 from the Plantation Ministry.
He has now purchased a 100 perch land nearby to put up another factory that would very soon turn out an additional 100 to 150 CSMs per month. The eldest in the family, his son, B K Buddhika, now shoulders the bulk of the maintenance of the factory and the two daughters –Hashini Balasuriya and Manik Buddhini with their laptop computers roam the world in cashew-producing nations to convince potential buyers on the CSM.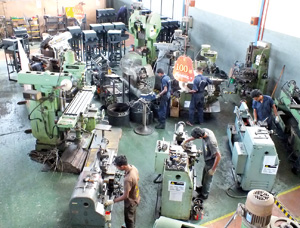 Manufacturing Hall
One goes to Gambia to meet the African Cashew Alliance where the entire cashew producing nations are represented. They tell the cashew world that the M 171 CSM is the machine for cashew. Many of these cashew producers are convinced not only to book machines but give a 50% advance. The other goes to India and there too with the same success story.
Buddhi Industries has received several invitations from many countries and the duo – Hashini and Manik - would take turns to visit these countries in their massive international CSM promotional campaign.
The company is a role model of a family-run business and has proved that modern sophisticated technology and management skill is not that essential to be a successful industry or business.
Though the government and other authorities boast of promoting local industry and trade, the greatest pity is that they fail to support small industries that can create markets internationally. Recognizing them alone by offering some awards and plaques is not good enough.
BT leads the way
The Business Times has progressively promoted and encouraged these up and coming industries, some novel, exceptional and with tremendous export potential. However the biggest stumbling block for these infant industries is some state agencies.
Instead of finding a way out to overcome some trivial matters these agencies often demand fulfillment of various requirements and the delay in approvals that sometimes kill these industries, which in some cases take as long as three years. Sri Lanka's bureaucracy in related to small industries is more detrimental to the cause than encouraging.