Argentina President Cristina Fernandez de Kirchner, in an astonishing attack, has claimed Britain is prepared to seize other countries' resources by force. The outspoken politician made the claim despite revealing she would renew full diplomatic relations with the UK by appointing a new ambassador.
Speaking at a trade bloc summit in Montevideo, Mrs Kirchner said Britain was ready to seize resources 'anyway, anyhow'.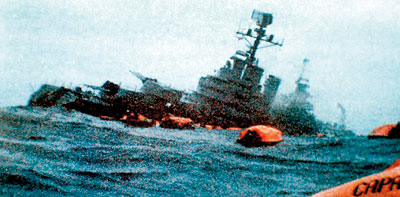 Invasion: The Argentinian cruiser General Belgrano sinks after being hit by a torpedo as its crew takes to life rafts in the South Atlantic Ocean during the Falklands War in 1982
That came after a decision by the powerful Mercosur bloc, which includes Argentina, Brazil and Uruguay, to ban ships flying the Falklands flag from its ports. Mrs Kirchner, speaking at end-of-year drinks with a group of journalists at her official residence in Buenos Aires, said: 'We will have an ambassador in the UK very shortly because 30 years is a long time.'
A source close to the president added: 'Cristina reiterates Argentina's sovereignty claim to the Falklands but wants to mark the 30th anniversary of the conflict by saying it's time to turn a fresh page in the two countries' relationship.
'All she wants to do is sit down and talk with David Cameron's administration.' The post of Argentine ambassador to Britain has been vacant for more than two years since previous incumbent Frederico Mirre retired at the end of 2008.
Mrs Kirchner decided against sending a replacement in protest at British government support for the start of new oil exploration around the disputed Falkland Islands. A new ambassador was not expected to be named until the end of 2012.
British Foreign Office officials said they were 'very concerned' at the Mercosur ban and British diplomats in South America demanded urgent meetings with their host countries. The bloc's four full members have vowed to adopt 'all the measures it is possible to impose to impede the entry of boats flying the illegal flag of the Malvinas,' the Spanish word for the Falkland Islands.
This week, former head of the British Navy Lord West suggested sending a nuclear submarine to the Falklands to act as a deterrent for any military action by Argentina. Speaking to the Evening Standard, he said: 'They are basically becoming more and more aggressive. I find that worrying.
'Far from trying to settle in a grown-up way and having better and better relations with the Falkland islanders, they are upping the ante and becoming confrontational.' Tensions were already high in the region after Argentina intensified its campaign of intimidation against fishing boats operating with UK licences.
| | |
| --- | --- |
| | |
| Resolute: Margaret Thatcher sent a task force of 100 ships to regain control of the Falkland Islands after the Argentine junta invaded | Defiant: Argentina President Cristina Fernandez de Kirchner claimed Britain was prepared to seize natural resources from other countries |
In the latest breach of international law earlier this month, Spanish vessels bound for the islands were intercepted and boarded by troops. Last week Uruguay said it was banning ships flying the Falkland Islands flag from its ports, prompting the Foreign Office to call on Uruguay's ambassador in London to explain the move.
The government in Buenos Aires has stepped up its official policy of blockading the British territory by ordering its navy to board ships that it claims are fishing there illegally. Argentina managed to secure a resolution from 32 Latin American states at a conference endorsing its claim to the islands, which were ceded to Britain in 1833.
The row began to escalate in January last year when oil exploration rigs arrived off the islands.
Rockhopper Exploration, which carried out test drilling in the waters around the islands, said in September it had made significant finds and could begin pumping by 2016.
Britain has around 1,200 service personnel on the islands, and there are three Royal Navy warships in the area along with four RAF Typhoon fighter bombers. In 1982, Argentina's junta invaded the islands. Then prime minister Margaret Thatcher sent a task force including aircraft carriers equipped with Harrier jump jets and an invasion force to retake the territory.
A 74-day war claimed the lives of 649 Argentines and 255 Britons as the Falklands were successfully defended. Concerns have been raised, however, that defence cuts this year could leave the territory vulnerable to another attack by Argentina.
Former military chiefs said in September the dwindling budget left the islands 'ripe for picking' if Buenos Aires invaded with support from its allies. The United Kingdom National Defence Association report urged ministers to boost military spending from 2 to 3 per cent of GDP, and warned Britain would struggle to repel Argentine forces if they were supported by China, for example.
It said: 'Once lost, the islands would be very difficult to retake, particularly with no air cover over a task force. 'Our assessment is that current force levels are inadequate to hold off even a small-size invasion.'
© Daily Mail, London