Christmas is a supremely odd festival when you think about it for more than a second, perhaps the oddest festival celebrated by humans anywhere at any time of the year.
Extremes: A tiny number of religious-themed Christmas cards are on sale this year compared to an abundance of gaudy ones with obscene greetings
Even as a child I managed to grasp its essential weirdness. For a start there was the weather. Half of the stories about Christmas seemed to involve snow and ice, the other half deserts and camels. The surreal fusion of mythologies was never really addressed. We had baby Jesus in his Middle Eastern manger one moment and Father Christmas at the North Pole the next.
Pine trees and cacti, Dickens and no room at the inn. Pharisees and elves, Herod and Rudolph.
Why do we eat an enormous chicken to celebrate the birth of a god? Did Delia's potatoes feature in the stable? I think not. Were the wise men (or were they Kings? This still confuses me) worried there would be no cranberry (my personal Christmas nightmare)? I think it unlikely.
What's with the shopping and presents? And why does everyone insist it snows at Christmas when it hardly ever does? And finally - I am inordinately proud of the fact I noticed this when I was ten - if Jesus's birth marks the start of our calendar, why don't we celebrate Christmas Day on January 1st? No wonder so the (possibly apocryphal) story goes, that the confused management of a Japanese shopping mall once put up a display featuring Santa nailed to a cross.
If Christians cannot work out what Christmas is about then how can they expect anyone else to? That's why I cannot get too worked up by the fact that hardly any Christmas cards on sale contain religious imagery. I am hardly the first person to say this, but it is surely beyond the bleeding obvious that Christmas has had nothing to do with religion for decades, centuries perhaps.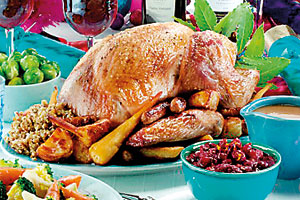 Confusing: Why do we eat an enormous chicken to celebrate the birth of a god?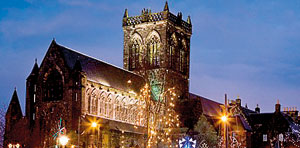 Sad: Once the Christianity goes we'll be left with shopping and bad telly. It's up to Christians to reclaim this festival
The old midwinter Pagan festivals of northern Europe were simply upgraded with an add-on package of rather dubious Christian imagery so we could carry on frolicking with the pies and mead but safely forget about Odin and Thor.
That said, once the Christianity goes entirely we are left simply with shopping and bad telly, and that would be a terrible thing. But it is up to Christians to reclaim this festival.
If there were a market for religious Christmas cards they would be on sale. If your council starts blathering about 'Winterval' (it has become something of an urban myth that this is an urban myth - it did happen, in Birmingham, in the late 1990s) and this bothers you ring them up and tell them that being as dense as plum pudding is not a prerequisite for working in a town hall.
It strikes me as an atheist brought up in the Christian tradition that the birth of Christ, while a nice story (the manger and so on) isn't really central to the belief system.
All the important stuff happened at the other end of His life, when we celebrate Easter. A solemn and joyous occasion marked in some style in the Orthodox nations of Greece, Bulgaria, Russia and Serbia.
Here? Rabbits and chocolate, all the way. And so the confusion continues.
© Daily Mail, London