Did you know that there were only 2 billion people on this planet in 1950 and now it has grown to over 6 billion and it is projected to grow to 9 billion by 2050? So even though the world population will grow more than 4 times, have we grown the natural resources? So how do we provide all these extra people with water, food, energy etc? Do you know that very soon there will be over 500 million new households coming into the middle class of India and China alone?
So if each one of these households wants to put one extra bulb, do you know you will need 50 more coal power plants? Can we afford it? Do we have resources for it? No, we don't. So the only way to let these new households get an extra bulb, is for all of us to use one less bulb in our households! (Michael Friedman, in "Flat, Hot and Crowded"). This kind of behaviour change will need a revolution in our thinking and it will not happen overnight, if it ever happens at all!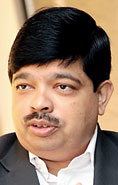 Dr. Rajesh B. Biniwale, Principal Scientist, Environmental Materials
Division, National Environmental Engineering Research Institute
A few vibrant and futuristic professionals thought of making a change in this area of how we treat Mother Earth and how we use our natural resources and hence set up a company to raise awareness and help people Go Green in whatever way they can.
Go Green Solutions (Pvt) Ltd is a new entrant to the Sri Lankan business arena. The company plans to introduce the concept of green living to all Sri Lankans at corporate level and at household level. Specializing in Green Products and Green Services, the company can guide the client in identifying areas for improvement through green audits of your office, factory, hotel or home, helping in implementation of the improvements by supplying products and technologies, as well as to finally guide a client to a green certification if needed.
The company believes that you do not have to be interested in certification, but even a small effort to reduce your impact on environmental damage, to reduce, reuse and recycle will matter in the long run and will clear your conscience. They also believe that in addition to a mind set, it also requires a lifestyle change that will take a long time to happen, hence the sooner you start, the better.
Go Green Solutions which is a 100% Sri Lankan company is currently tying up with various international and local partners in order to introduce a range of environment friendly technologies to Sri Lanka. These modern technologies will address issues like waste water treatment, sewage treatment, minimization of dust generation in industrial applications and prevention of odour and gas emissions. Go Green Solutions will also introduce Bio Digester Technology for safer, cleaner mobile toilets. In addition to all of these technologies being environmentally friendly, they are also cost effective and require minimum maintenance.
The latest technology with respect to Sewage and Waste Water treatment to be introduced by Go Green Solutions was recently presented to the Ministry of Water Supply and Drainage, the Ministry of Environment and the Central Environment Authority by a team of experts who arrived from India, representing their partners, Go Green Solutions India and the National Environmental Engineering Research Institute (NEERI) based in India.
This Phytorid Technology is a cost effective, environmentally friendly method for treating sewage and wastewater. This technology is based on the filtration and treatment capabilities of specific plants, which are cultivated in a plot. Wastewater and sewage is then directed towards the plot, where the plants treat and filter the waste by removing pollutants. As this is an entirely natural method of treating wastewater, there is no noisy machinery involved and the bed of plants creates a beautiful garden, enhancing the aesthetic appeal of the environment. The technology only requires a gardener to maintain the plants, thereby requiring minimal maintenance costs. NEERI of India has the international patent for this technology and has tied up with Go Green Solutions as their exclusive partner for commercialization of the technology inIndia and Sri Lanka.
Dr. Rajesh B. Binwale of NEERI who recently visited Sri Lanka in order to introduce the Phytorid Technology stated that the climatic conditions in the country are ideal for the implementation of this internationally patented technology. In fact, the plants required for treatment grow in abundance in Sri Lanka. He further added that the technology has been used widely and successfully in countries like India andBangladesh, where climatic conditions are similar to those in Sri Lanka. Having met with officials from the Ministry of Environment and the National Water Supply and Drainage Board, Dr. Binwale visited several places in the country where he believes Phytorid Technology can be successfully implemented. He said that the government officials were enthusiastic about introducing the technology to Sri Lanka.
Go Green Solutions, also hopes to introduce a range of new products made using 100% biological material that will make a fresh impact on the Sri Lankan market through their exclusive agency for EKOGEA products certified by the EU. One of the new products will be EKO-Accel, an eco friendly product that helps control odour, dust and gas emissions in industrial settings, the cost effective product's gel-consistency adheres to particulates and controls dust in applications such as mining, construction and agriculture. EKO-Accel also bio-chemically provides dramatic reduction of the most offensive odours within minutes on contact with waste, manure, sludge etc. Moreover, gas emissions can be minimized in any industrial application when EKO-Accel is passed through an atomizer.
Another new technology that Go Green Solutions hopes to introduce are the mobile toilets using Bio Digester Technology. This technology uses a specific type of bacteria that digests waste and leaves behind only a clear, odourless liquid, which is free of pollutants and can therefore be safely disposed of anywhere. In addition to the eco friendly nature of these toilets, they also require minimal maintenance as the need to dispose of waste once the toilets have been used is eliminated. The clear liquid that is the only byproduct is rich in nutrients and minerals and is ideal for irrigating gardens and lawns.
For further details you can contact Go Green Solutions at gogreensol@gmail.com or visit their website at www.gogreensolu.com