Little Lion Associates (Pvt) Ltd launched Little Lion Ginger cookies to the local market to capture a sizable market share of the existing biscuit segment.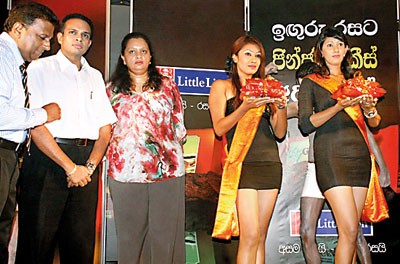 Mr. S.M.D. Suriyakumara, Deputy General Manager - Little Lion Associates (Pvt) Ltd, Mr. Tharangeetha Samaraweera, Director - Maliban Group of Companies, Mrs. Kumudika Fernando, Director - Maliban Group of companies with the Models displaying Ginger Cookies at the launch.
The current market size of the biscuit sales volume in 450 metric tons and the newly introduced ginger cookies product is expected to capture five percent of the total biscuit market. The product will be distributed islandwide through 30,000 retailers and will be available at a competitive price, Little Lion Associates Deputy General Manager Mr. S M D Suriyakumara said.
"We have embarked on an aggressive promotional campaign and 10,000 posters will be displayed in prominent places while 10 branded vehicles will be purposefully used to create awareness among the public" he said.
The company will manufacture 50 metric tons initially with plans to increase it up to 100 metric tons with expected sales increase which will add to the bottom line. There are more new products on the pipeline which will be introduced shortly to the market.
Plans are under way to cultivate 10 acres of ginger and the company will source the entire ginger requirement from the local farmers. "We expected ginger cookies to perform well in the market, generating demand from teenagers and elders alike. The total market is targeted through below the line and sampling marketing techniques to capture wider base." he said.
"The product was launched after an intense two year research process and the testing was successful with positive feedback. We expect this product to make a category shift in the cookie segment where Little Lion will be known as a cookie company" Mr. Suriyakumara said.