A pagoda is ideally a tiered tower with multiple eaves which attract lightning strikes because of its height. It is also a resting place for those tired souls in want of some shelter. There's yet another definition for us Lankans - 'the "Pagoda"' in Sri Lanka is ideally an institution - especially for those of you who are of that 'previous' generation.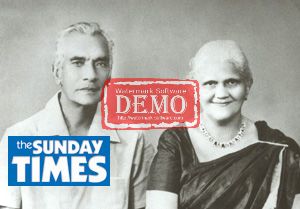 Cyril and Mallika Rodrigo
This classification despite sounding 'old' will definitely bring back many delectable memories to all of those mature people appreciating music by the then famous pop band, Duran Duran who filmed its classic 1980s video 'Hungry like the wolf' at Pagoda, Chatham Street.
How it all started
I am pleasantly surprised when Chanaka Rodrigo, appears from the Green Cabin Luncheon room at Colpetty. His blue linen shirt and white trousers don't give away how busy he sounded over the phone.
Thuwani, one the of longstanding Green Cabin employees is at my side, no sooner I take a seat at the far end of the restaurant which is crowded even on a warm Tuesday afternoon.
He wants to know what I'd like to have. Well, the choices are endless, but I settle for a potato éclair (another first by Green Cabin) and Green Tea, which is not on the menu, but is Chanaka's favourite.
Settling in for a 30 minute chat, which went past one and a half hours and a pot of Green Tea, Chanaka says it was 127 years when great grandfather, Mudaliyar Thomas Rodrigo partnered with a British gentleman to start Pagoda (initially famous as the Ceylon Tea Kiosk) at the busy Colombo Harbour.
"The beginnings of the Pagoda Tea Rooms dates back to 1884. It was established as the Ceylon Tea Kiosk and was located in the Jetty of the Colombo Harbour," Chanaka says, adding that some enterprising planters were the founding fathers of this business.
The main idea behind this was to sample their product Ceylon Tea to the visiting tourists. Then, near the turn of the century Ceylon Tea Kiosk relocated itself in a building at York Street, Fort.
Business sense
Why a name like Pagoda, my curiosity gets the better of me. "Maybe it was more to do with a resting place," Chanaka shrugs, and we both agree that it would've been a 'cool' name more than a century ago.
On a more serious note, he says, "After York Street, the Tea Kiosk was re-named the Pagoda Tea Rooms mainly because of the Pagoda like structure atop the roof of this building the tea room was housed in." The Pagoda Tea Rooms some years later made its move to Baillie Street.
After the First World War Mudaliyar Thomas Rodrigo bought the British out and ventured alone with the Pagoda Tea Rooms which turned out to be great business sense as this time the Colombo Fort, which was a central business district had become the hub of activity.
"The leading trading companies, publishing house, government offices and the department stores were all located in the Colombo Fort. The bankers, brokers, journalists, mercantile executives, civil servants and anyone around patronized the Pagoda Tea Rooms for their daily lunches. These gentlemen would form groups according to their professions and had tables of their choice especially reserved for themselves," Chanaka says, telling the same stories my grandparents had shared with me.
He says female shoppers would visit the Pagoda Tea Rooms to refresh themselves in between their shopping expeditions. If it was a morning break it was for an orange juice and a ham sandwich. At evening it was for their favourite cuppa and a chicken and ham pie.
From Baillie Street the Pagoda Tea Rooms extended itself through to Chatham Street. The Tea Room was refurbished with rich new interiors and the hours of service were extended to include diners. Mudaliyar Thomas Rodrigo then requested his eldest son Cyril Thomas Rodrigo to participate in the business.
Young, energetic and fresh from college, Cyril Thomas took up the challenge and engrossed himself in the operations at the Pagoda Tea Rooms. It was he who developed a new line of business by catering at 'receptions' hosted in the leading residences in the country. Chanaka says that this service gained a reputation for its excellence overnight which saw his catering services extended to all parts of the island. No place was too far nor was any function too small for the Pagoda Tea Rooms to accept the order.
"History records that Cyril Thomas catered to receptions hosted in the Deep South to the far north," Chanaka says, adding that Cyril's personal attention and presence was a hallmark of success.
Japanese air raids
Then came the Japanese air raids in 1942.
"Mrs. De Vos, a lady of Dutch origin had started a restaurant in 1936 in the heart of Colombo's residential district, Colpetty called the Green Cabin (at the same premises its Head Office is now in) and she had wanted out after the Japanese air raids," Chanaka reminisces, adding that Cyril then saw the business acumen and bought it. These two restaurants never closed during the war, even though many competitors had wound up after the raids in Colombo.
Chanaka says that the patronage of the large numbers of service men stationed in Colombo and local patrons helped the restaurants to become popular. He remembers that the food for both Pagoda and Green Cabin was home prepared under his grandmother, Mallika's supervision. "Each day rice and curry was sent to both Pagoda and Green Cabin and we had a huge kitchen," he remembers, almost smelling that aroma.
The Cyril Thomas Rodrigo couple had five children – three girls and two boys, all of whom had gone through this business at some point in time. "They all joined the business at different stages," he adds, surprising me by saying that the youngest son, Devaka was the first to join. He was also Chanaka's father and was managing Pagoda.
This reminds me that the business is in its fourth generation. And now 10 cousins along with Cyril's children co-own the business. It's easy to see that they've done good job with their inheritance as the business has really taken off during the last few years expanding to seven outlets.
"We now operate from a central kitchen at Pepiliyana, Nugegoda and everything under one roof.
Some staff are 'ancient' – they've been with the business way before Chanaka was born.
Holding the fort
He says that there're some new plans lined up for Pagoda. "We want to do the place up." It will be revamped in time to come and new menus, new ideas, etc will also be introduced. The legendary cheese cakes, the best hoppers and curry at dinner time from Green Cabin, the Lamprais which simply is a must, the famous Green Cabin chocolate cakes which is known in every Sri Lankan home, the Chinese rolls that even the Chinese do not know about, the pastries that now offer a wide variety of fillings, etc will live forever.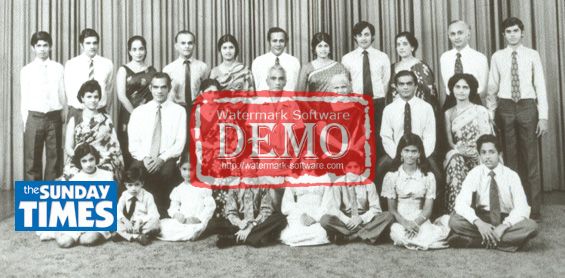 A group photograph of the family on the 50 th anniversary of the Cyril and Mallika couple in 1974