R. Sampanthan
Tamil National Alliance (TNA) Parliamentary group leader R. Sampanthan said that the Tamil people are worried about the ongoing land registration process in these two provinces, and purported attempts by the Government to change the demographic composition of these areas. He was speaking during an adjourment motion moved by the TNA in Parliament on Friday, to discuss several issues affecting the north and east, with particular reference to land distribution and registration issues in these areas.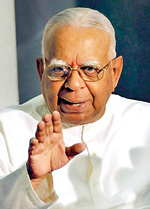 "There are fears that an attempt is being made to infringe the cultural and linguistic identity of Tamil people in these areas. I know most of the government ministers do not approve of these happenings. I have raised these matters with the President and some ministers. I am moving this motion in good spirit, as there should be lasting peace in the country, enabling people belonging to all ethnic groups to live together as equal citizens. The late SLFP founder-leader S.W.R.D. Bandaranaike and UNP leader Dudley Senanayake were two great Sinhalese leaders, and had the pacts they signed with late Tamil political leader H.G.V. Chelvanayagam been implemented, the country would have never undergone its violent phase. These two pacts which I mentioned earlier, sought to ensure the linguistic and cultural rights of Tamil people. Had the Bandaranaike-Chelvanayakam Pact been implemented, the country could have avoided the armed struggle of Tamils for their rights.

John Seneviratne
Minister of Public Administration, John Seneviratne said his ministry has done a great deal to establish civil administration in the north and east, and is today playing a significant role in channelling large amounts of funds provided for development and welfare activities.
"We have computerised the issue of birth and marriage certificates. We have been able to issue nearly 25,000 certificates in Vavuniya, 150,000 certificates in Mannar and more than 1.3 million in Mullaitivu. A sum of around Rs 18 million has been spent to establish this project. We have also established six land registries, and in Jaffna district alone we have registered 19,782 deeds by September, 2011.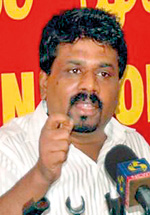 Anura Dissanayaka
DNA MP Anura Dissanayaka said that, while the government is carrying out massive development activities in the north, the people have not been made partners in the process. "There is no use launching development projects if the people are not involved in the process. If the government genuinely wants to build reconciliation among the different races, forcing people to settle in different areas in the country will not help the situation."

D.M. Swaminathan
UNP National List MP D.M. Swaminathan made a reference to the circular issued by the Land Commissioner General to all Divisional Secretaries in the North and east on land registration, which he said is in violation of the Constitution.
"If a person possesses title documents in his favour, and if there is any other person who wishes to claim ownership, such a person should bring necessary action in a regular court of law to vindicate his rights. Now that all courts in the north and the east are functioning, there should be no difficulty in any party instituting such proceedings. In the event of a person losing his title documents, if the State wishes to grant a permit or licence to occupy State land, then the officials could follow the policies set out by the State. However, requesting officials to institute proceedings, requesting public officials to declare ownership of land in respect of persons who cannot produce documentary evidence, is contrary to the Constitution, in that, this involves judicial power of the State which cannot be exercised by the Executive Arm of the State.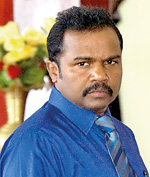 Vinyagamoorthy Muralithran
Deputy Minister Vinyagamoorthy Muralithran said that the problem of land is not one confined to the Tamil people, but affects all communities. "We have to settle these issues in a civilised manner. We have joined with the President and the government so that our people can benefit from the development projects in our areas. Some of the TNA MPs here have houses in Colombo and abroad, and if they want, they can buy a house in Matara. Then why cannot a Sinhala person buy a house in Batticaloa?"