The restored 9th-century AD Kalagam Vihara, in the Anuradhapura district, was declared open as a place of public worship by President Mahinda Rajapaksa last week.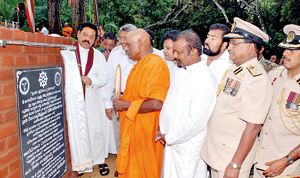 President Mahinda Rajapaksa, Defence Scretary Gotabaya Rajapaksa and Director General, Civil Security Department, Rear Admiral Ananda Peiris unveil a plaque at the restored Kalagam Vihara shrine
The abandoned temple, built about 1,500 years ago, in the time of king Kashyapa IV (AD 898-914), was previously covered in thick jungle. The site was restored by the Civil Security Department, under the direction of the Department of Archaeology. The temple has been declared a national heritage monument. The restoration coincides with the 2,600 Sambuddathwa Jayanthi commemorations.
The restoration work was undertaken on a recommendation from Secretary Defence, Gotabaya Rajapaksa, who was advised by the Halmillavatiya, Kalagamvehera Adikarana Sanganayaka, the Ven. Halmilawa Dammarakkitha Thera.
Rear-Admiral Ananda Peiris, Director-General of the Civil Security Department, and Lt. Col. Y. M. Punchibanda, Commanding Officer of the Kebathigollawa Force Headquarters, played prominent roles in the Kalagam Vihara restoration project.Kebathigollawa Magistrate Tilina Gamage and Halmillavatoya Cooperative Society manager M. Jayathilaka assisted in arranging for the funding of the project.
Residents of Kebathigollawa were closely involved in the restoration.