Japanese giant in Consumer Electronics, Panasonic Corporation's Managing Executive Officer of the Corporate Management Division forAsia and Oceania, Mr. Yorihisa Shiokawa, is scheduled to visit Sri Lankato attend the Panasonic Eco Convention, an event introducing Panasonic's range of technologically advanced environment friendly "Eco" range of consumer electronics appliances.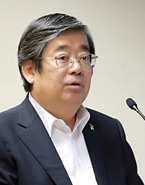 Mr. Yorihisa Shiokawa, Managing Director of Panasonic Asia Pacific and Managing Executive Officer, Corporate Management Division for Asia and Oceania, Panasonic Corporation Japan
Mr. Yorihisa Shiokawa, who is also the Managing Director of Panasonic Asia Pacific is expected in Sri Lanka during the end of September 2011 for this momentous event and will together with Softlogic, the Authorized Distributor for Panasonic inSri Lanka, launch the Panasonic Eco Convention.
This marks a significant milestone for Panasonic in Sri Lanka with Mr. Shiokawa who is the senior most Panasonic official to visit the country. It is a clear testament of Panasonic's keen commitment to the local market to expand Panasonic's business substantially and bring technologically superior World-class products to the local consumer.
Having taken up the post of Managing Director of Panasonic Asia Pacific on April 1, 2011, Mr. Shiokawa is responsible for overseeing Panasonic's business operations in this rapidly growing region. Prior to this, he contributed immensely to building brand Panasonic in numerous markets across Europe over the past three decades.
A graduate of the School of Commerce, Waseda University, Japan, Mr. Shiokawa joined the Panasonic Corporation (then called Matsushita Electric Trading Company Limited) in 1974. He has held several high-level posts including Managing Director of Panasonic Polska, Panasonic Eastern Europe, Panasonic Slovakia, Panasonic Deutschland and Panasonic Marketing Europe. He was instrumental in conceptualizing and implementing several initiatives, which resulted in Panasonic's business growth in these markets especially in the areas of digital audio-visual products and home appliances.