Defence Secretary Liam Fox has vowed to break the 'conspiracy of silence' by soldiers involved in the 'violent and cowardly' beating of an Iraqi detainee who died in British custody. Up to 14 serving soldiers are facing suspension for their alleged involvement in the death of Iraqi hotel worker Baha Mousa in Basra in 2003.
They were using interrogation techniques that had been outlawed 39 years ago but had slipped back into use in the Armed Forces. Along with 12 former soldiers, the 14 also face the prospect of further questioning - and possible prosecution - over an incident described by Dr Fox as 'deplorable, shocking and shameful'.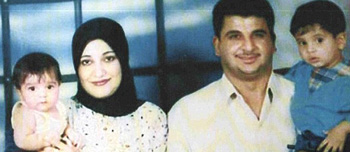 Victim: Hotel receptionist Baha Mousa, pictured with his late wife and their two children, was beaten to death while in Army custody in Basra in 2003. An inquiry said the abuse that led to his death was not a 'one-off'
The Defence Secretary is particularly angry that soldiers have chosen to remain silent over what happened during a bloody 36 hours in Basra eight years ago. A devastating report into Mr Mousa's death on Thursday found he had suffered an 'appalling episode of serious gratuitous violence' at the hands of members of the 1st Battalion Queen's Lancashire Regiment (1QLR).
General Sir Peter Wall, the head of the Army, said the 'very serious breach of discipline' had 'cast a dark shadow' over the Army. But the Ministry of Defence was also facing searching questions. Inquiry chairman Sir William Gage, who led the three-year investigation, accused the MoD of a serious 'corporate failure' for failing to tell soldiers that five interrogation techniques, including hooding and sleep deprivation, had been banned since 1972.
He revealed that incredibly, some of the techniques - also banned under the Geneva Convention - had become 'standard operating procedure' in parts of the Army. In addition, no reference to the 1972 ban was made in Army training manuals. Dr Fox described the failure as a 'dreadful and almost unbelievable lapse in corporate management', and said a major review of interrogation was under way. He accepted almost all of Sir William's 73 recommendations.
But he said British forces would retain the right to use the so-called 'harsh approach' to questioning, which involves intense bursts of shouting at detainees, because it had proved effective in gaining vital intelligence.
Mr Mousa's body had 93 external injuries when he was found dead on September 16, 2003 - 36 hours after he had been detained by British soldiers. The 26-year-old father of two was one of ten men rounded up after wrongly being identified as insurgents. Thursday's inquiry report cost £13million, a previous court martial is reported to have cost £20million and £3million compensation has been paid to the families of Mr Mousa and nine other men detained at the same time.
But, with further inquiries in the pipeline and fresh prosecutions being considered, the final bill to the British taxpayer for the 36 hours of brutality is likely to top £50million. On Thursday Dr Fox said the soldiers involved had been operating under intense strain, but added that this did not excuse their actions.
Seven soldiers faced allegations relating to the mistreatment of the detainees at a court martial in 2006-07, but only one was found guilty. Corporal Donald Payne - branded a 'violent bully' by Sir William on Thursday - was jailed for a year after admitting he was involved in the assault. He became the first British soldier to be convicted of a war crime.
Thursday's report found he had orchestrated a sickening 'choir' in which hooded detainees were punched in succession so their cries and moans created a grotesque chorus. Dr Fox told MPs that the 'misguided loyalty' of some soldiers meant the full truth about Mr Mousa's death had still not come out.
But he said prosecutors would review the evidence 'to see whether more can be done to bring those responsible to justice'.
| | |
| --- | --- |
| | |
| Defence secretary Liam Fox | Violation: Some of the shocking injuries suffered by Mr Mousa |
Thursday's report named 19 members of 1QLR as taking part in the beatings. But Sir William also singled out officers for criticism. They included the battalion's commander Colonel Jorge Mendonca, who he said 'bears a heavy responsibility for these events'.
He cleared Colonel Mendonca of knowledge of the beatings, but said he should have known what was going on. Lieutenant Craig Rodgers, commander of the unit responsible for guarding prisoners, was accused of a 'very serious breach of duty' for failing to stop the brutal treatment being meted out. The report said Mr Mousa would 'almost certainly have survived' if Lt Rodgers had intervened.
© Daily Mail, London
MOD'S 73 RECOMMENDATIONS
Asking detainees if they have any complaints about their treatment and suggesting Her Majesty's Inspector of Prisons (HMIP) visits battlefield holding centres were among the 73 recommendations inquiry chairman Sir William Gage made.
The former Court of Appeal judge issued top-to-bottom instructions for the way handling detainees could be improved.
Sir William's recommendations also included:
The military should know they could be prosecuted for hooding, use of white noise, sleep deprivation, wall standing and providing a limited diet.
Prompt checks on prisoners' wellbeing after a death in custody.
Whistleblowers should be given protection
Specific Ministerial approval should be sought before the harsh approach is approved for use in theatre.
Detainees must undergo a medical within four hours of capture unless impossible
Training materials to include references to UK troops previously breaching the Law of Armed Conflict.
Military must not teach forces to 'maintain the shock of capture' and 'prolong the shock of capture'.
Soldiers were using 'banned techniques'
The head of the inquiry into the death of Baha Mousa on Thursday expressed astonishment that five controversial interrogation techniques were still in use by parts of the British Army more than 30 years after they were banned.
Sir William Gage said a ban ordered by former Prime Minister Edward Heath in 1972 appeared to have become 'largely forgotten' by the Ministry of Defence.
By the time of the 2003 Iraq War the ban had 'mainly faded from policy and training manuals' and was not mentioned to soldiers likely to be involved in detaining and interrogating prisoners of war.Sickening: Still images from a video showing Corporal Donald Payne, the only soldier to be convicted by the Army, shouting and swearing at the Iraqis as they are forced to maintain painful 'stress positions' at the prison where Mr Mousa died.
Sickening: Still images from a video showing Corporal Donald Payne, the only soldier the Army has convicted, shouting at Iraqis as they are forced to maintain painful 'stress positions' at the prison where Mr Mousa died.