In a bid to revitalize private sector participation in Sri Lanka 's economy, the country's pioneer development bank the DFCC Bank is taking measures to encourage entrepreneurs to expand their businesses and venture into other profitable areas. For years, businesses were restricted from exploiting their full potential due to the ongoing war.
Now that Sri Lanka is ushering in a new era of development, the private sector, ' can look forward to capitalise on the many opportunities that will arise.
In the present set up there is renewed interest in DFCC Bank's role as the country's pioneer development bank. Many of the country's leading industrialists acknowledge the support received from DFCC Bank especially during the early stages of their businesses. DFCC Bank has also helped the development of many industry sectors. The banks efforts in developing the small and medium industry sector have yielded beneficial results in the island.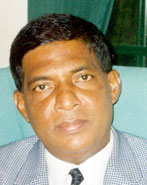 Tissa Hettiarchchi
Talking about DFCC Bank's assistance for the improvement of his cement based product manufacturing industry, the head of Armstrong Products company Mr. Tissa Hettiarchchi told Sunday Times that close monitoring and guidance of DFCC bank after providing him with lease and loan facilities was the key to the success of his business . Credit alone does not ensure the survival of small industries, he said adding that DFCC banks expertise really understands the needs of customers and he is transacting with this bank for over 20 years.
DFCC'S experience and qualified officials helped him to improve his managerial capabilities of the business and help him to make the most of his entrepreneurial spirit."
Many of the potential entrepreneurs cannot start up new businesses, as they have not accumulated financial resources needed as capital. DFCC Bank offers financial facilities after thorough assessment on the viability of the project. Mr . Hettiarchchi said that he became an entrepreneur due assistance including equity capital, knowledge and business know- how given to him by the DFCC Bank. DFCC officials are taking great pain to inform him about the banks' new financial products and credit lines even now to enable him to expand his current operations.
Armstrong Products was set up in the year 1989, and it has gained a reputation as a Sri Lankan cement based product manufacturer for high quality durable products that caters to both the local and export markets in the areas of construction and landscaping. Armstrong has three factories located in Welisara, Ranmuthugala and Kadawatha. These factories are producing concrete items for the construction industry required specifications at very competitive prices.
Armstrong Products are also eco-friendly as they provide the best alternative to timber-based products used for construction and landscaping. In addition to this these products require little or no plastering and therefore contribute a substantial saving on material and labour costs. Armstrong Products was the brain child of. Mr. Tissa Hettiarachchi who is the inventor of these novel products. He was an old boy of Ananda Vidyalaya Colombo and is a BSC Graduate of the University of Colombo; he is also a judo player with a Black Belt from Sho-Dan, Kodokan-Japan . He has a great passion for singing with inborn talents of a vocalist .
Speaking to Sunday Times he disclosed that he initially started off with manufacturing cement blocks and later diversified his products to meet o the demands of customers, during President Premadasa era. The company's main line of business includes manufacturing and supplying cement based products for construction and landscaping.
The company is also producing cement blocks, cement grills, concrete tiles, pergolas, removable summer houses and garages, door and window frames, picket fences, inter locking pavings, decorative concrete columns, banisters, removable parapet walls, spiral and straight staircases and hume pipes etc. It's landscaping products include concrete flower pots, statues, concrete and terrazzo benches, murals, moonstones, bird baths, garden slabs etc.
Mr. Hettiarachchi .said that minimizing wastage and conserving the environment has also topped the list of the company's objectives. Armstrong is famous for its spiral stairways, picket fences, solid frames and louvers, verandah pillars as well as for its movable multipurpose garages and summer houses. The company also produces cement walls.
He said that his company is enjoying leasing and credit facilities of DFCC Bank for registered corporate business entities, at reasonable interest rate. In fact he got his car also with a DFCC leasing facilities. He added that the bank provides assistance to business ventures in the form of project loans, working capital loans, finance leases and guarantee facilities etc.at very competitive interest rates.