DIMO together with Bank of Ceylon organized a very successful "Riya Pola" recently at the Sathyawadi Grounds at Kurunegala. Large number of individual customers and corporates participated for this event. Tata Commercial vehicles, Tata Passenger vehicles and Mahindra tractors were displayed and demonstrated at the "Riya Pola" while BOC arranged special customized leasing schemes at the location.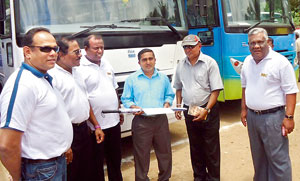 Mr. Ranjith Pandithage (Chairman-DIMO) hands over the key of a brand new Star Bus to Mr. A.R. Dasanayake from North Western Province, who purchased the vehicle at the "Riya Pola" through the BOC special leasing scheme at the site. Mr. Vijitha Bandara (GM-TATA Commercial Vehicles), Mr. H.M. Mudiyanse (DGM-BOC) and Mr. Upatissa Bandara (AGM-BOC) are also in the picture.
The "Riya Pola" was opened by Mr. Ranjith Pandithage, Chairman-DIMO, Senior DIG Pujith Jayasundera and Mr. H. M. Mudiyanse, DGM-BOC. Mr. Vijitha Bandara, GM-TATA Commercial Vehicles, Mr. Anura Wijesinghe, Manager-Kurunegala DIMO Branch, Dr. C. Samarasinghe, Additional GM-BOC and Mr. K. Dharmasiri, Additional GM-BOC represented the two institutions.
DIMO arranged facilities to issue quotations and invoice vehicles, whilst BOC arranged hassle free quick leasing facilities to the customers. A record number of 143 vehicles were delivered to customers during the exhibition day at the "Riya Pola" while another 129 orders were confirmed.
This was the first time DIMO invoiced and delivered such a large number of vehicles from a location outside DIMO premises.
Commenting on the success of this event Mr. Pandithage stated "we are happy to tie up with the giant in banking and leasing in Sri Lanka - BOC, today and have this wonderful event for the North Western Province customers. We are confident that with their network of 309 branches, BOC and DIMO can transform the automobile leasing industry".
In addition to Tata vehicles and Mahindra tractors, Mercedes-Benz passenger cars too were displayed along with Kumho and MRF tires.