Recently, there was a successful walk to raise funds to set up a cancer hospital in Jaffna. This should be accompanied by a campaign to raise awareness of cancer, and how some kinds of cancer can be avoided by taking precautions and living a sensible lifestyle.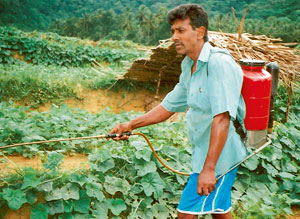 We should try to grow food that do not need fertiliser
For example, farmers should be advised to use natural fertiliser and biological methods of pest control in the cultivation of rice, vegetables, and fruit.
The Ven. Athuraliya Ratna has taken up this noble cause. Those who are serious about health should start moving away from chemical fertiliser, pesticides and weed-killers. Once we start practising healthy habits, we will see a decline in the number of cancer patients.
We should use natural fertiliser, such as cow dung, leaf manure, and the like – things that have been used by farmers for more than 2,000 years. In the past, we never had so many cancer patients.
We should also grow foods that do not need fertiliser, such as Jak (also known as the "bath gaha" or tree of rice), manioc, sweet potatoes, kurakkan, and the like.
For humane reasons, importers of hazardous fertiliser should stop these imports and turn to the production of compost fertiliser, using the leaf, bark and cow dung that are so freely available in this country.
Prevention is better than cure.
J.C. Boange, Via e mail
Kirulapona police disappoint residents
A garage was recently opened at the entrance to Poorwarama Road, from the High Level Road end. This is a narrow road, only 20 feet wide, and is used by vehicles coming into Colombo from Nugegoda. This was the old High Level Road.
Vehicles parked on the road outside the garage cause traffic blocks at peak hours. The Kirulapona Police have taken no action. Furthermore, this is a residential area, with two-storey houses on all sides. Vehicle repair goes on night and day, causing a great disturbance and inconvenience to the residents.
In this neighbourhood, there is a hostel for student nurses, a beautiful home for elders, and students studying for their A/Levels. At 2.10 am on August 6, 2011, racing car engines were tuned and raced. Residents called the Police, but no police showed up. The UDA has been informed, but we have not heard from them.
Please help us suffering residents.
Traumatised, Kirulapone
Pali stanzas are universal
Dr. D. Malwatte Mohotti's letter (Sunday Times, July 31) deserves a reply. Buddhists do not pray. They recite Pali stanzas when paying homage to the Buddha. This is a universal practice. In Sri Lanka, Sinhala translations of the canonical texts and Pali stanzas are readily available. The average Buddhist knows the meaning of the Pali stanzas he recites.
In all these years, no one has felt the need to switch to Sinhala versions of these Pali stanzas. In fact, Buddhist religious recitations are often conducted in both languages – Pali and Sinhala – in Buddhist temples.
J. Abeyguna- wardhana, Homagama
Not all cataracts require surgery
Patients often come to me seeking a second opinion about cataract surgery. Many say they need an eye operation, sometimes immediately, sometimes at great cost.
When a doctor says, "You have cataract", they think, "I must get it out!" I have had patients who have burst into tears when told they had cataract.
They think cataract is a disease, to be eliminated as early as possible. They think cataract is like cancer or having a tumour. Cataract is just an ageing change. Not all cataracts require surgery.
Actually, in the early stages it may even be advantageous to have cataract, because it negates age-related presbyopia (difficulty in reading up close) by causing myopia (short-sightedness).
Those who have been using reading glasses will suddenly find they do not need glasses any more to read. They may be having cataract, and removing the cataract could mean losing this advantage. There may be a reduction in distant vision, which may be corrected by glasses. On the other hand, ignoring a mature cataract could lead to complications.
The need for surgery depends entirely on the patient's lifestyle. A sedentary old woman may live for years with an early cataract without feeling any adverse effects. On the other hand, a very active person in his/her 40s may find driving difficult with very early cataract, because momentary blindness occurs when lights from oncoming vehicles are flashed in the eyes.
We should think carefully about the outcome before rushing into cataract surgery. Just having a cataract does not mean you need surgery. Each case must be considered on its own merit.
Dr. Mrs. Mareena Thaha Reffai, Dehiwela
Cannot the world see what we need?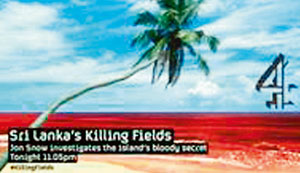 The Channel 4 film on alleged war crimes committed during the last stages of the war in Sri Lanka
Providing humanitarian aid
To help erase scars of a 30-year war –
Cannot the world see what we need?
Focusing on rehabilitation
Uniting people who had drifted apart
By burying the past
Helping people reach out to each other
Through love and understanding
Of each other's different lives
And ways of worship
And barriers of language
Economic development
A secure future for the young
By education and understanding
Of a changing new world
Where we can march shoulder to shoulder
Under one flag, one nation
Moving forwards, never backwards.
Cannot the world see for itself
That what we need are not fabricated videos
Reminding us of a war that is over;
What we need is help for a future
To be rebuilt on love, understanding
And forgiveness.
Punyakante Wijenaike, Colombo