A Sri Lankan priest, charged with misdemeanor sexual assault, allegedly touched an 18-year-old man's pubic area during confession in his Simsbury church, according to the warrant for his arrest, a US newspaper said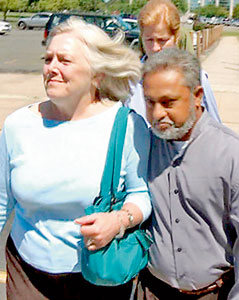 The Rev. Edward Warnakulasuriya, accompanied by a parishioner leaves Superior Court in Enfield after being arraigned Friday.
The Rev. Edward Warnakulasuriya was arraigned Friday in Superior Court on three counts of fourth-degree sexual assault, the Hartford Courant newspaper said. The priest said nothing during the brief hearing or as he left the courthouse. He was ordered to surrender his passport.
Rev. Warnakulasuriya, who is from Sri Lanka, has been suspended by the archdiocese of Hartford in Connecticut, USA. He has not been seen at St. Bernard's Catholic Church in the Tariffville section of Simsbury for several weeks.
Before his appointment to St. Bernard's, Rev. Warnakulasuriya served several years as an assistant pastor at St. Martha Roman Catholic Church in Enfield, where he was known by a different name. In church and public records, he is also listed as Edward Tissera, and W. Edward Julian Tissera. The archdiocese lists him as Edward J. Tissera.
The newspaper said:
"On July 18, the young man told police, he went to see Warnakulasuriya because he was conflicted about his faith. The 18-year-old told police that Warnakulasuriya noticed he was crying, and kissed him on the forehead "for a long time." The young man again confessed his sins, including masturbation, and Warnakulasuriya said, 'Let's go to my bedroom,' according to the warrant. The priest offered a 'special blessing.'
"Upstairs, the man told police, Warnakulasuriya asked him to pull down his shorts. The priest then put his hand inside the young man's boxer shorts and touched his genitalia. The priest said a prayer in a language the young man said he did not understand, and then the priest put oils on the young man's arms, legs and lips, according to the warrant. Warnakulasuriya had the young man rub the same oil on his genitals, the warrant says.
"Two days later, the young man said, he met with a priest and nun from the archdiocese and told them what Warnakulasuriya had done. The priest replied that what Warnakulasuriya did was not a blessing and "was very wrong." The young man notified police the same day.
"The priest's lawyer, Walter Bass, said Warnakulasuriya, who is a U.S. citizen, had already turned in his passport. "One of three women who sat with Warnakulasuriya in court said after the hearing, "I stand by Father Ed." She declined to give her name."