Ushanar Marzuka, 31, a mother of two living in a remote area in Valaichchenai on Wednesday was preparing lunch when she realised that the battery on her mobile phone was low. Since her household did not have electricity she left her two children at home and walked over to a neighbour's house to charge her phone.
As she made her way back home, she says she was obstructed by two men clad in T-shirts and shorts with faces painted black. "They asked me where I was heading. As I responded one man tried to grab me by my hand. I freed myself and pushed him back. In the process one of them scratched me with a sharp object he carried in his hand," Marzuka who is being treated for injuries at the Valaichchenai hospital told the Sunday Times over the telephone.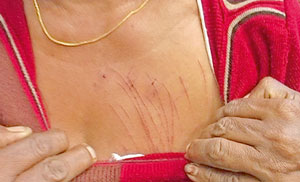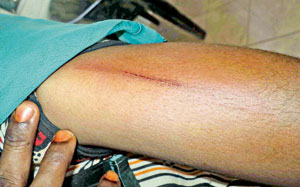 Scratch marks
"I ran back to my neighbours house and bolted the doors and windows. We shouted for help but no one heard us. An hour later we opened the front door armed with a pole and called out for help," she continued.
This time neighbours hearing cries for help arrived at the scene. And soon more than 100 villagers, some of them armed with clubs, some on motor cycles started searching for the two men albeit without any success, the Sunday Times learns.
"I was rushed to hospital and there I was told a man had been arrested about a kilometre away from our homes. But from the descriptions told to me I felt they had got the wrong person," Marzuka said.
The villagers had apparently taken into 'custody' a man and questioned him. He had said he was visiting one of his relatives. The villagers had not believed him and beat him up.
Chief Trustee of the Ottamavadi Grand Mosque, S.M. Shifdeen said the villagers had detained a person and informed the area Police, but Police had delayed in arriving on the scene aggravating the situation.
"Two hours later the suspect was taken to the police. Rumours began to spread that the man was to be released. The rumours started because a man behaving in a suspicious manner who had been handed over to the army in the adjoining village had been released without any investigation," he said. 'Tension soon arose leading to a clash with police. Stones were thrown at the police prompting them to fire into the air," Mr. Shifdeen said.
The villagers called for a hartal in Ottamavadi the next day and Eastern Province DIG Thilak Wijegunawardena held a meeting later in the day with religious leaders, officials and the army to find a solution to the mounting tension. Four policemen were transferred out of the station. As police were taking action to defuse the tension at Ottamavadi, a more serious incident was taking place in the Thotalgala tea estate –eight kilometres from Haputale.
A group of female tea pluckers were going about their routine work in the estate when two people in black t-shirts had reportedly jumped on them from a tree. The two men were soon caught by fellow labourers who started assaulting them. With more and more workers converging on the scene they were beaten to death.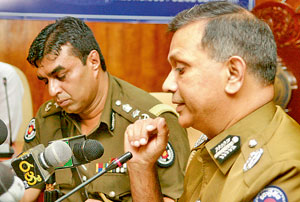 Police Chief N.K.Illangakoon flanked by DIG Pujitha Jayasundara at a news conference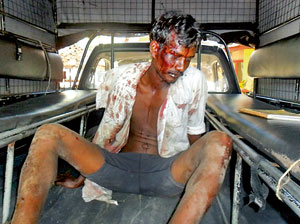 The wrong man:The man villagers thought had attacked Marzuka after he got the beating of his life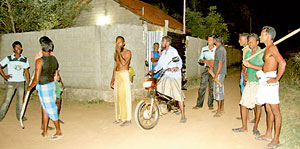 Hijarathpuram in Puttalam: On hearing about a 'grease yaka' men armed with poles keep vigil on Saturday night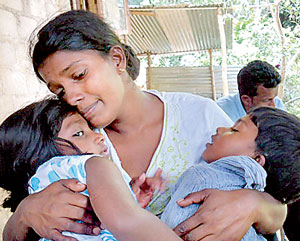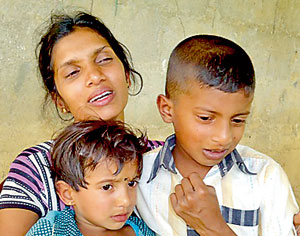 The grieving wives and children of the two men killed at the Thotalagala estate in Haputale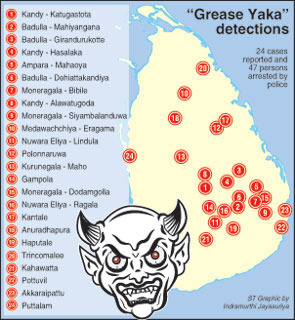 Hours earlier two other men behaving in a suspicious manner had been apprehended by villagers in the same area. They had assaulted the two men apparently in the presence of police. This led to a clash between the police and villagers, which left the OIC of the area police and a constable injured. Because of this earlier incident police had delayed about five hours to reach the scene at Thotalagala estate, the Sunday Times learns.
"Police may have been able to save the lives of those two if they had arrived on time," an estate official said. The bodies were taken to the Badulla hospital on Friday for postmortem. Family members of the victims had identified the men as Somasundaram Mahendran (29) and Sylvester John Peter (35).
Family members claim that the two men had gone into the estate to collect some overdue payments for some rugs they had sold to people on the estate. However this was dismissed by the estate workers.
These are not isolated incidents. Similar incidents are being reported from various parts of the country, some ending in fatal consequemces. In most cases the villagers have taken the law into their hands as they say they have no confidence in the police.
In various parts of the country youth armed with poles and clubs were reported to be keeping night vigil looking out for suspicious-looking people who are now being widely termed as 'grease yakas'.
In Daulagala, off Kandy a 23 year old youth who was among a group of villagers giving chase to a suspicious person got entangled in a live electrical wire set to a trap wild boar and was electrocuted.
In two separate incidents in Nawagattegama sightings of 'grease yakas' were reported. In one instance police arrested a person who apparently turned out to be a mentally-handicapped patient, while in the other incident a woman had run into the jungle after she claimed she was frightened off by a man.
With villagers in several areas taking the law into their hands, tension appears to be mounting. In Sammanturai and Pottuvil two teams of WildLife officers carrying out an elephant census came under attack on Thursday night.
In Sammanturai two officers were given chase by the villagers and they ended up at the police station. Villagers had then pelted stones at the police prompting them use tear gas to disperse the crowds. The STF was called to control the situation.
In Urani, Pottuvil, villagers attacked three WildLife officers prompting the army to intervene. Villagers had attacked the soldiers as well. On Friday, villagers detained three boys who were apparently loitering in the Vinayagapuram area of Tirukkovil and handed them over to the police. Later, hundreds of people had converged at the police station demanding that the boys be handed over to them to carry out their own 'investigations'.
Villagers set fire to tyres , pelted stones at the police prompting them to open fire injuring two villagers. The army was called to the area to control the situation. In Habarana, a man had reportedly attacked two women scratching them on their chest. The women were in their homes when the incidents occurred.
"I am scared to stay in my own home," one of the women told the Sunday Times.
In Kantale a garment factory girl was returning after work when a person in a full –faced helmet had molested her. The man had escaped. In Agarapatana on Friday morning three unidentified persons were reported to have frightened female tea pluckers who were on their way to wrok. At least five women had fainted on seeing the men, the Sunday Times learns.
In Galewela two Army deserters and an ex-soldier were arrested for acting as 'grease yakas' and frightening women in the area. In one case a 28-year-old Army deserter was arrested for walking naked at night while another was arrested for peeping through windows. In a deadly twist to these incidents, youth armed with swords, knives and iron poles are roaming the villages at night to prevent such incidents, the Sunday Times learns.
Galewela OIC, Rukshantha Perera in an apparent attempt to prevent villagers taking the law into their hands had summoned the vigilance committees and told them only to keep watch. He warned them that anyone walking after 7. p.m. armed with clubs and swords would be arrested.
Back at Police Headquarters in Colombo, Police Chief N.K.Illangakoon on Thursday addressed a news conference. He said thieves and drug addicts were operating on these areas. Senior DIG Pujith Jayasundara said there were no 'grease yakas' and it was a creation of the media.
But villagers continue to live in fear and uncertainty, whether it be real or imaginary 'grease yakas' or thieves who are prowling in their villages.
Grease yakka in Colombo: Were police taken for a midnight ride?
It all happened at Panchikawatte, in the heart of the metropolis and shortly before midnight on Friday.
Someone reportedly spotted a "grease yakka" and the alarm was set off with people converging at the site and the police responding instantly with four separate divisions led by a senior officer.
The police were told that the so-called "grease yakka" was hiding atop a tree, and so the fire brigade was called in with two cranes to assist. All the trees in the region were searched with spotlights, but the "grease yakka" had given some 100 policemen and fire brigade officers the slip.
The search went on for six hours. Now police suspect that they may have been taken for a midnight ride by silly pranksters who are breaking rest with the ongoing Ramazan fasting season.
More dangerously the people have taken the law into their hands.
Contributions from other correspondents :
R.Anuruddan - Valaichchenai,
Prasad Rukmal - Haputale
Kanchana Kumara Ariyadasa- Dambulla
Mohammed Buhardeen – Galewela
Hiran Priyankara Jayasinghe - Puttalam