The recent announcement by the Ministry of Defence that foreigners no longer require permits when travelling (even by road) to Jaffna, had me eager to visit. I hired a van and set off to what, for me, was an unknown destination.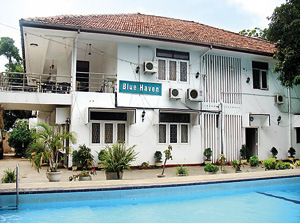 But where to stay? I discovered afterwards that I could have been right in the centre of town by staying at the newly opened Tilko Jaffna City Hotel. This is within walking distance of the market and shops (including one dedicated to dry fish and another to palmyrah products). The hotel has a cocktail bar and serves a delicious buffet lunch (Rs1,350++ per head) and has luxury rooms at Rs7,500++.
However, I wanted informality and the only guesthouse that responded to my emailed enquiry about accommodation was Blue Haven. A subsequent email from the management stated: "Tourism in Jaffna is in early stage, so is the hotel industry. Maintenance and management are Herculean tasks as most of the staff are novices."
I liked that realistic attitude and immediately paid a deposit to secure two rooms. The journey by road was part of the fun and, after Vavuniya, we were struck by how the scenery dramatically changed from lush fertility to arid plains.
First, a warning for foreigners intending to go by road. While a permit is not needed, both a passport and a photocopy of the details page and visa are definitely necessary at the Omanthai checkpoint. Travellers are sometimes asked for proof of identity at other checkpoints too and, on the return, there is a baggage security check at Omantai.
We found Blue Haven with difficulty as it is in a residential part of Jaffna, in a quiet road and by a tank, away from the city centre. A sparkling blue swimming pool greeted us on arrival and it was wonderful to relax with a swim after the long, bumpy drive. We shared the pool with local schoolchildren learning to swim, which quickly made us feel part of the community, not just tourists.
Later that evening we watched the pool being treated with chlorine and, apart from the leaves that constantly drifted down into it, it was beautifully clean. A small shop adjoins the pool at the street side of the hotel, where snacks and soft drinks are on sale.
Blue Haven has 10 rooms. We had two on the first floor leading off the dining area. Each had a small entrance hall, a separate bathroom, and a large, bright and airy bedroom with enough space for three beds. The floor was tiled and there was a modern air-conditioning unit, as well as a ceiling fan, and television. The bathrooms were small and basic and quickly became awash with water on using the shower – but at least the shower did have hot water. It was reassuring that whenever we asked for something (like a wastepaper basket) it was provided quickly. Novices the staff may have been but they were obliging.
The bedroom furniture was pretend pine, with a light fawn grain, which created a pleasant atmosphere. The pillows were plump and my mattress (of coir and rubber) was firm enough for a good night's sleep. I was delighted to find plenty of plug points and table space for my laptop and portable kettle.
I needn't have worried about making tea, though, as I was assured by the staff member who showed me to the room that tea or coffee was available on demand. Guests breakfast in the dining room or meals can be taken on the broad balcony with its view of pool and tank.
Blue Haven suited us because of its easy-going atmosphere and we felt perfectly at home relaxing at night on the balcony after the heat, dust and clamour of days spent exploring the city. At Rs. 3,000 for a double per night (Rs. 3,500 at weekends) with an additional adult at Rs.750 a head, the room rate puts the guesthouse above low budget prices in the south, but was good value nevertheless.
Blue Haven, 70 Racca Road, Jaffna; tel: 021 222 9958; bluehavenjaffna@gmail.com; www.bluehavenjaffna.com