She is no ordinary 22-year-old who has achieved much, she has Down Syndrome. But her
success story shows that with necessary support services, people with cognitive disabilities can fulfil their dreams. Kumudini Hettiarachchi reports
Petite Megan Chandrika McCormick has an impressive curriculum vitae. Numerous are her achievements – not only academically, with As for mathematics, but also in sports such as gymnastics and swimming and extracurricular activities including music and ballet.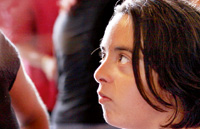 Megan making her presentation.
Pix by M.A. Pushpa Kumara
Megan is also a globe-trotter, having visited many a country from her home in Lexington, Kentucky in America. We first see her making a presentation before a packed room at Ratmalana. Then last Monday after chatting to her while we talk to her parents, Malkanthie Wijayasuriya and James McCormick, Megan makes herself busy copying her CV, on our request, to the pen-drive from her laptop.
For, Malkanthie and Jim, it was an "unexpected gift" when they found that Malkanthie was pregnant. They had both been married before with children from those marriages but this "autumn" baby was a surprise. Malkanthie was 45.
Two weeks after the birth as she held the baby close, "really lost" as to how she would handle her, she was told in no uncertain terms by her Secretary who had come to see the new arrival, "This is a child. You have other children don't you? Don't you know how to raise her?"
That was the defining moment and Malkanthie and Jim, both doctors, one dealing with infectious diseases and the other in pulmonary and critical care, decided they knew exactly what to do. The expectations from Megan were the same as those they had from their other children – Malkanthie's son and daughter and Jim's two daughters and son, from their previous marriages.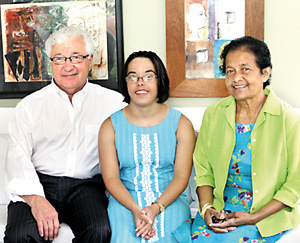 With her supportive parents
But may be, they thought, the milestones would be delayed. Jim suggested that Malkanthie be the "total mother" while he would look after Megan's health issues. They recall how the little one was screened for heart problems very early in life and they were told that she had a large ASD (an atrial septal defect, sometimes called a hole in the heart by laymen).
They both "wanted surgery right away" as they didn't want the baby to remember the trauma. But it turned out to be a false call, says Jim.
Malkanthie and Jim spent as much time with Megan as possible and talked to her constantly. They played classical music including Mozart and Beethoven to lull her to sleep. Malkanthie took three months off work and when she did go back they found a nanny who didn't have any children and took Megan as her own baby.
The three of them, Mom, Dad and baby, celebrated all the milestones. With Megan urging her parents, they reminisce how at six weeks a "total surprise" awaited them. Suddenly Megan flipped over, says Malkanthie, explaining that the milestones fell within the range of the typical child but "came at the far end".
Jim smiles as he remembers how Megan would hold onto something, pull herself up, keep standing and "bob up and down". Memories come swiftly of the red toy elephant which was the lure for the little one to move forward stomach side down on the floor, crawling towards the jumbo which would be pushed just out of reach as she drew closer. The learning process also encompassed simple things that many parents and children take for granted. Malkanthie would turn her to a side and keep her feet together so that she would propel herself up by keeping her hands on the floor. Megan had to be taught movements of pattern- how to sit up from a lying down position.
Obesity was another concern and whenever Megan worked hard or achieved something, unlike other parents who would give their children a reward in the form of sweets, Malkanthie and Jim extended fruit.
Lots of fruit and vegetables were part of Megan's diet. Having heard from Malkanthie's mother that garlic was good, garlic and honey became a part of Megan's routine intake until someone said she would stink of garlic and it was stopped when she started schooling.
Megan who has been offered frozen yoghurt instead of ice cream and lemon sorbet instead of cake has grown up without a sweet tooth, retaining a shapely figure. Then there had been the times, when as a tiny tot, she would sit on the kitchen floor with the telephone directories, flipping the pages intently. That was when Jim presented her with a seven-piece Sesame Street jigsaw puzzle and she would take it to pieces and put them back again, not only recognizing patterns at an early age but also focusing on something for a while. Even on her visit to Sri Lanka this time, a precious companion is her Sudoku book.
All this will help prevent Alzheimer's, explains Megan.
Her other pastime is writing in her journal and the last few visits to Sri Lanka have seen Yala and Kataragama logged in. This time what gets a mention is the visit to her aunt and grandpa.
"Loving to learn," Megan went to school with high expectations, going through elementary, middle and high school, in an "inclusive" environment. Working harder than her classmates, she hit "roadblocks" with algebra and Spanish. It was then that Malkanthie and Jim hired a tutor to help her at home to get the "information taught in school clearly".
Gradually, Megan had recognized her strengths. Math and science they were, and that's what she has taken up at college, the equivalent to university. With the seeds of the future taking shape in her mind that she would like to become an occupational therapy assistant, a change of plan, with many a prayer to God to show the way, has occurred after she did an internship as a para-educator working with children in the kindergarten.

"I love teaching children, entertaining them, getting them to learn rhyming words, reading and comprehension and also working with them one-to-one. There is lots of satisfaction when they learn from me," she says, while Malkanthie points out that "Megan was born for a reason, to make us better human beings".
With the future stretching ahead bright and clear, Megan hopes to run her own home independently one day, while working with children.
So what, people will ask. Why is she so special?
Megan now a young woman of 22 is no "ordinary" person in every sense of the word. She has Down Syndrome.
Early intervention the answer
Never give up, is what Megan advocates to all those parents who have "intellectually challenged" children, holding herself as the example where "interventions" as early as when she was two weeks old have made her what she is today.
Her grade-point average for university is a high 3.7 out of 4. The early interventions included occupational and physical therapy as well as speech. With her parents and the student-centred Individualized Education Plan team as her allies, she has been able to graduate with a High School diploma when she was 18 years old, along with her peers.
Even after school and during vacation there were lessons for Megan who says, "I went to school 365 days of the year!" Being in an "inclusive class" doing regular work, there were only a few "extras" dished out to her:
Sitting in the front row to read the board better.
Getting a complete set of notes in large font from the teacher, because of her difficulty with vision.
A complete set of textbooks at home to make studying easier.
Being given extra time to complete the same tests as her classmates.
Instead of doing home work with her parents, help from a tutor for about two hours every day to make sure that she understood her work and was ready for class.
Having academic support during lectures at college (university) where a coach goes to class with her and takes down notes as well. Later, the coach gives private instruction so that Megan can comprehend the subject matter fully and keep up with class work.
It was not only studies that Megan did. Being a Special Olympic athlete since she was eight years old, she has travelled with her parents and siblings to Ireland for the World Games in 2003 and China in 2007. Among other things, she has been a flier on the Special Olympic Cheerleading squad the Show Cats for 10 years.
She plays the piano and is taking lessons in homemaking which include mastering the skills of grocery shopping, meal planning and cooking.
Among her other achievements are being a global messenger for the Special Olympics of KY, an advocate for post-secondary education for those with intellectual disabilities and being on the Board for the UK Chapter for Best Buddies which improves social interactions between typical peers and persons with developmental and intellectual disabilities.
Megan's words should show the way not only to parents but also the authorities in Sri Lanka where we should be heading: "With the necessary support services, people with cognitive disabilities can continue higher education and improve their opportunities to get the job they want."