The anguished shriek of "Appah" rent the early morning stillness, sending the bleary-eyed Pada Yatra devotees running to the bank of the Menik Ganga in the Yala National Park.
It was dawn on Sunday, July 10, and the scene that met the devotees who rushed to the scrub jungle on the river-bank sent chilling fear up their spine. Right before their eyes, a leopard with its jaws clamped over the bloodied neck of 31-year-old Krishnapulle Chandrakumari was dragging her into the jungle. It was only a frenzy of shouting that made the leopard ease its vice-like grip, the Sunday Times understands, but even while they were carrying her to the place where they had laid down their weary heads the previous night on the dried up riverbed the predator had been slinking about in the vicinity, growling in anger, having to be warded off with firebrands.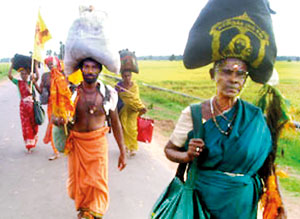 On the move: Pada Yatra pilgrims (file pic)
Chandrakumari, a mother of a six-month-old baby and six-year-old boy, was dead. A Samurdhi Officer from Thirukkovil in the east, she had joined the Pada Yatra with a heavy heart - to fulfil a vow taken on her husband's behalf. For, he was paralysed below the waist after being involved in an accident.
She and the members of the 'nade' had come the previous night (July 9) to the Menik Ganga, lit a fire, had a scrap dinner and slept on the sandy river-bed. The Menik Ganga has dried up and there is only a sliver of a stream flowing sadly.
In the early morn having boilt and eaten a meagre meal of bada iringu, Chandrakumari had gone about 25 metres from the river-bed to the river bank on the side of Block 1 for her morning ablutions when she met with an agonizing death far away from home, many sources said, quoting witnesses. Behind this unfortunate leopard attack lies a horde of issues, stressed conservationists, howling in protest at the "goings on" inside the Yala National Park.
Reconstructing the tragic scene in detail, Sajeewa Chamikara of the Nature Forum underlines the fact that the attack took place about 500 metres from Negeniyangastota, one of four camping sites allowed by the Department of Wildlife Conservation (DWC) in Block 1. There seems to be a connection with the campsite as there are serious concerns that a particular group that camps here, enticing foreigners and their big bucks with assurances of "sure sightings of leopards" lure the big cats here by feeding them beef regularly, said Mr. Sajeewa (See box).
Previous attacks by leopards and other animals
2006 - A Pada Yatra devotee had been mauled and killed by a bear in Block 2 while a woman had been killed by a tusker at Katagamuwa in Block 1
2005 - Another woman on the Pada Yatra had been killed once again at Katagamuwa by a tusker.
About 25 years ago a leopard had attacked and injured a tracker at the Heenwewa bungalow staff quarters. The same leopard had attacked about three others, but no one was killed.
1924 - The man-eater of Punani killed many people.
1910 - A Pada Yatra devotee had been killed close to the Poththana wells and the same leopard is believed to have killed around six more people.
What can you expect of leopards when humans dangle beef before them as bait, he asked, critical of those who would do anything for money, not caring a tuppence for the consequences. Poor Chandrakumari may have paid with her life because of the greed of others, he said, a view echoed by many conservationists.
Check out their Facebook promotions, Mr. Sanjeewa said, adding that it shows clearly a photograph of a leopard near the campsite, with a large bonfire burning merrily. Usually leopards would move away from such areas, but what is the attraction, he argued, answering, isn't it obvious it is food.
Feeding of wild animals to get them for viewing at close quarters was one of the dangers that conservationists pointed out when expressing grave concern over proposed moves to build hotels in the buffer zones of Protected Areas as reported in the Sunday Times of July 3.
However, a spokesman for the campsite operator vehemently denied the allegations which he claimed were baseless and asked whether anyone had seen them feeding the leopards. He pointed out that DWC officials were with them and would prohibit them from such actions.
This is not the only allegation against this particular campsite operator, according to Mr. Sajeewa. When the waters of the Menik Ganga inundate the campsite during the rainy season, the operator allegedly clears the forest and moves the site further inland, he said, pointing out that this was against all the laws governing the Yala National Park which is a Protected Area.
After Sunday's attack, there had also been alleged military comments that the leopard will be shot, said Mr. Sajeewa, questioning how anyone could shoot any animal in a National Park let alone one of a handful of the top predators, a leopard. The National Park is the designated home of these animals and how can humans who intrude on their territory come up with such threats which are a clear breach of the law. The other question is: How will anyone distinguish the problem leopard from the others, or will they take the liberty of killing all leopards on sight.
Another conservationist pointed out that though the Pada Yatra has traditionally gone through the Yala National Park, in the last two years the number of devotees has swelled. This year, a crowd of about 28,000 has passed through while last year it was close to 26,000. Some of these groups don't behave like devotees, they sing, they make a huge noise, they set up wadi all along the river and they litter the park with polythene and the remnants of ganja, turning the National Park into one big camping ground.
This affects the life of the animals, he said, especially their home range, corridors and access to water. This is the dry season and when humans are roaming along the river, they cannot get to water.
ouldn't aggression come about naturally?
The other major concern was expressed with regard to the army putting up four boutiques along the Pada Yatra route - Warahana, Kosgasmankada, Katupila- ara and Pallepoththana -- within the Yala National Park in clear violation of the Fauna and Flora Protection Ordinance. A conservationist pointed out that not only were they supplying kadala along the route but they were also selling fizzy drinks, packets of biscuits and water bottles. Not just a few hundred but thousands of bottles, he alleged, asking where these devotees dumped used bottles and polythene packets, except in the park itself.
The tragic attack on Chandra-kumari should be a forewarning. Limit Pada Yatra crowds through the National Park, with DWC officials around them to advise and provide guidance, according to conservationists.
Or why not have the Pada Yatra re-routed along existing roads around the Park, asked another.
The warning is timely. Leave the animals their territory, for each and every one of these animals, from the smallest worm to the largest elephant, is needed in the eco-system, for the very survival of humans.
Many attempts to contact the Director General of the DWC failed as he was said to be abroad.
Attack an anomaly: Leopard Researcher
Last Sunday's attack at Yala is "very strange" for Sri Lankan leopards, points out conservationist and leopard researcher Rukshan Jayewardene. "It is an anomaly."
Explaining the "normal behaviour" of Sri Lankan leopards, he says whenever human beings move in and out of forests for various reasons such as collecting firewood they never get menaced or attacked by these big cats. Leopards will cautiously and warily watch from a distance or evade and slink into deeper forest.
This is because the leopards have plentiful prey, "their kind of food", such as deer, buffalo and wild boar and they don't see humans as what they eat naturally, he stresses. In the case of cubs who have seen humans from the time they were born, even when they grow up they would ignore humans. That's how you have "close encounters" with them at Yala and see them crossing between vehicles.
Humans are not the food of Sri Lankan leopards, he explains, adding that in India, leopard behaviour is different because their usual food sources are not abundant. Sometimes in marginal areas in Sri Lanka, if their food sources are scarce they would attack dogs and goats and in the process get snared, poisoned or shot.
Delving into the leopards' psyche why they keep a good distance from humans, Mr. Jayewardene says their perception is that we are bigger than what we really are because they are not at our eye level. If they can look into our eyes, they feel we are a smaller animal that they can attack and subdue. That's why most leopard attacks are on people squatting or kneeling, which gives the creature the impression that we are like a medium-sized animal. They make a correct assessment of our size only when they see us at that level, otherwise their perception of us is that we are larger and heavier creatures than what we actually are. So they leave us alone.
Of course, according to Mr. Jayewardene, the exception to the rule of the natural inhibition leopards have against attacking humans is the seasoned man-eater. Something has happened to make the man-eater cross that inhibitive barrier between animal and human. It could be that it accidentally attacked a human and at th same time being hungry got the taste of flesh and blood, tempting it to turn to this easy food source. With such a first attack the leopard also realizes that humans are easy to kill and not very heavy to drag.
Taking the attack on Chandrakumari, he says, "it's ominous", with the danger of the same leopard attacking again. There are all indications that it was not an accidental attack, on being suddenly surprised in the undergrowth, because then it would have pounced, killed and left her. The aggression, focused attention and predation factor, as opposed to an accidental killing, could be established by reports that it attempted to drag her into the jungle and even when thwarted and her body was carried to the river-bed with lots of people moving around, it lingered menacingly. The question which arises is whether he has preyed on humans before, maybe a poacher or gem miner, the killing of which would have gone unreported because they would have been in the National Park illegally.
When asked about reports that a leopard had been seen close to an army-run shop at Yala, he warns that the danger seems imminent and the DWC needs to shut down the campsites in the vicinity of the attack temporarily to avoid another attack and take urgent action to check out the cause.
"One quick way to make a harmless leopard or any wild animal a problem is to make it associate humans with food," warns Mr. Jayewardene categorically, when the Sunday Times queried about the allegations made that one particular group running a campsite at Yala (incidentally close to where Sunday's attack took place) was feeding leopards with beef to get them to be around the area, so that they could boast of "assured sightings" to foreigners and make a quick buck, without thinking of the consequences.
When the leopards are denied such throw-downs of food, they may very well resort to aggression, he said.