It might sound like a slow, painful death but to Shane de Silva it's the ultimate test of will and endurance – he just has to avoid drowning first. "I can't swim to save my soul," he confesses, laughing, "but I didn't want to be thirty and petrified of water for the rest of my life." Now he has approximately seven months to master his freestyle stroke. The event that is inspiring Shane to dive right in is the Ironman Triathlon. In February 2012, 10 slots will be up for grabs as Sri Lanka hosts one of the qualifying races for the Ironman World Championship.
The Ironman 70.3 event will feature a 2 kilometer swim, followed by a three lap 90 kilometre bike ride and finishing with a two lap 21 kilometer run. The 5150 Triathlon will feature a 1.5 kilometer swim, followed by a one lap 40 kilometre bike ride and will finish with a 10 kilometer run. (While the record holders have completed the course in 8 odd hours, competitors are expected to finish in under approximately 17 hours.) A 'tag' segment will allow for a team of 3 to split the various segments of the race between them – but winning like this won't get you to the finals. The triathlon itself will be held on a Sunday but there will be several events in the week leading up to it, including a triathlon for children – Ironkids.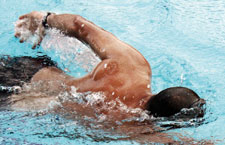 "It's going to be a big challenge for the simple reason of logistics," says Marlon Saldin, event Co-Race Director and Founder of Club Adventure. "This is a big project, a big product, with phenomenal numbers in terms of spectator participation." The event means a big boost in tourism for the Island, and it's why race venues such as Galle Face have been chosen for their proximity to the big hotels. "Sri Lanka is an incredible destination location" says Shannon Kurek, co-race director, "Colombo is a very athlete-friendly host city that will bring everything conveniently together within walking distance from the host hotels for this inaugural Ironman 70.3 and 5150 race."
Marlon has been trying to bring Ironman to Sri Lanka since 2004, but the time is now finally right. Their website www.ironmansrilanka.com is already up and accepting registrations and Marlon says they've had nearly 60 so far from 16 different countries. By the time of the race they expect that number to swell to 750. (The organizers plan to make allocations for locals to pay in Sri Lankan rupees at their office instead of in dollars online.)
A number of Sri Lankans are getting ready to take him up on his offer. Udesh Hettiarachchi is among them, but like Shane, before he can compete, he's going to have to learn how to swim. He's working on his technique and hopes to graduate from the pool to ocean sometime in the next seven months. The two may even train together, though Udesh is going to have to catch up with Shane. "I started preparing for it even before the website was up, because word got around that Ironman was going to have its first Triathlon in Sri Lanka."
Shane trains six days a week, morning and evening and says that he's adding weight lifting to his regiment of cycling, swimming and running. He's training under a coach at SSC and with the swimmer Julian Bolling. He also hopes to assess his progress by running in the Colombo marathon in October and the Singapore Marathon in December – "Just to see how I stand." Already a strong runner, Shane has taken to mountain biking recently and says he's not too worried about those segments.
It's during the first stage, the swim, that he knows he's going to have to be careful. It's when most athletes tend to make the mistake of giving it their all, only to burn out. Shane will have to pace himself very carefully.
It helps that he isn't determined to finish first. "I'm not looking at competing at all, it's just for the mental satisfaction of having done it." Dineshka Aluwihare (25) isn't even sure he'll compete, but knows he wants to prepare anyway. "Right now I'm rowing for the Madras -Colombo regatta," says Dineshka, explaining that he intends to start training in earnest soon, eventually making it to 2 sessions a day, 6 days a week. Dineshka relishes the challenge the triathlon presents. "Not many people can say that they've actually completed an Ironman - I think it would be an extraordinary feat."
If Asangi Wijesundere (26) won, she'd be dubbed an Ironwoman. "Ever since I was small, I've wanted to take part in a Triathlon," she says. A strong swimmer in school, she took to running after she graduated. Now she says she's begun to cycle more in preparation.
"I'm delighted to just be able to compete," says Asangi, describing herself as "psyched about it." "Completing the three segments one after the other requires so much fitness and endurance and so much mental strength," she says admitting she'll be pushed to breaking point.
For most competitors, the race takes a heavy toll. "You need to break the pain barrier," says Asangi, explaining that once you get past that, "you don't feel it." She's done it as a swimmer and hopes she'll be able to do it again. Currently Asangi is training with a group of friends from work. They're brainstorming on their training schedules and intend to gradually step up their preparations. "Having someone beside you helps you keep going," she says of her teammates. The thought of the race itself fills her with anticipation – "it really is something to look forward to."