Attired in old clothes as requested, I walk up the paved stone driveway to the entrance of the beautiful colonial building that is now converted into a gallery and boutique store. A few craft tables are scattered around the Casa Serena at Colombo 5 with the promise of a different experience – pottery making.
"It isn't going to be the ordinary pottery workshop. You will see how therapeutic pottery could be. With the way we all work these days, stress release is a good thing and by making pottery, you will also find your creative side," says Casa Serena's owner Nisansala Karunaratne. So here I am awaiting rediscovery of my creativity through a wet lump of clay, with a diverse group -- a Puerto Rican artist, an Australian interior design student, and a young enthusiast of the crafts among others.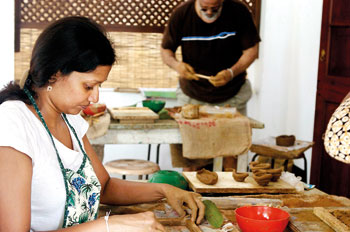 The small, diverse group of people enjoying their session
With soft eastern instrumental music and a cool breeze helping us settle in, the informal and interactive workshop begins under the guidance of experienced artist Noeline Fernando and sculptor Rajitha Mudannayake. A cylindrical clay block in front of us, we are told to break into lumps and knead away. Rashid, the Puerto Rican artist is seasoned in the art of clay. We start with the process of adding water and making the clay soft. The clay has already been cleaned and purified. When clay absorbs enough water it comes apart easily. Then the kneading begins, after which a block is made from soft clay.
The next step is done on a gunny bag and this is when the therapy begins. The clay block is repeatedly hammered against the gunny bag, spread on the table top, and dragged along it repetitively with the bottom of your palm. Thud and drag, thud and drag over and over again. This helps the clay attain a doughy consistency while further refining the substance. It also takes away excess moisture. The repetitive action and the physical drive steady the mind while creating a form of release. The mind and body work together retaining the same rhythm while forming a continuous flow of action. When the clay is dough-like, it is ready to be moulded. Once again a block is made. Using a steel wire it is sliced across. We are looking for air bubbles. If the clay is aired it must be kneaded once again. Finding no air bubbles, I move on to the next round.
We go back in time, even before the potter's wheel was invented. "Use your fingers to make textured surfaces. That is how people made earthenware during the civilizations of Mohenjo-Daro and Harappa," explains Rajitha. The eager students plunge in. The smooth clay between our fingers is comforting. Our hands become tools of expression. They create what is taking shape in our minds. Our imagination becomes a physical reality. Some make earthenware using the coil technique. The clay is rolled into coils and the coils in turn are kept atop a base in a particular design. Many coils are piled on top of each other to create height. A thick muddy paste is used as glue to bind each coil to the other and suddenly coil pottery jugs and vases appear on the worktops.
Conversation flows in tune to the music. Everyone is relaxed and the work moves along. We make tiles. A square block frame is filled with clay and then turned over. Once again any gaps are covered and the fill is tightly pressed. The frame being removed, a square tile remains. These tiles are used to create other objects like triangular vases. Some create mountainous landscapes and I make a lighthouse upon a rocky terrain. Most of us also make earthenware using crude tools and our hands, with a primitive yet intricate feel to them. Most designs are created with individual characteristics and come right from the heart. We discuss what each design means and what we would do with it. At the beginning someone would say, "I have no idea what I'm making", but later there is something beautiful. Some objects are of practical use, others purely decorative.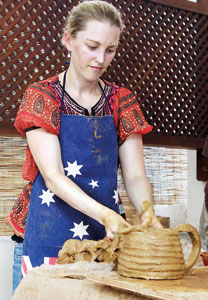 Candle holders, pots, dishes and even little figurines emerge. Different techniques are used by each person and result in distinctive patterns. The leaf imprint introduced by Noeline is taken up and used as an accompaniment in a floral ornament. It also results in elongated leaf-shaped dishes. The leaf is left atop the clay and a rolling pin used to press it in, helping leave a clean leafy print on the clay. This print is then cut out and resembles a clay leaf roughly ½ centimetre in thickness and is the replica used to adorn decorations or turned into leafy saucers.
After the final piece, sipping iced tea, another day is proposed to fire and paint the clay products, after the items have been sun-baked for about a month and heated to a high temperature in a kiln. This will harden the pottery and set them in their proper shape. Colouring or glazing is optional.
Forming the clay into objects of shape and pattern means attentive application. Although ideas are free flowing, the end design requires focus and concentration. It is almost meditative. The experience is calming.
Pottery-making is a time not only to harness creativity, but also to reconnect with yourself.
For more information on upcoming workshops please contact Casa Serena, 122, Havelock Road, Colombo 5 or check out their website: www.casaserena.lk
Phone: 011-2587440/011-4366203