'Chariot of Fire' famed actor Ben Cross who was in town to act in the well-known filmmaker Chandran Rutnam's latest movie 'A Common Man' the first Sri Lankan production solely aiming at Hollywood, says that filmmaking in Sri Lanka is technologically like posting a handwritten letter which is done with lot of love and care at a time when the West is sending email.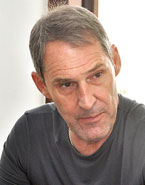 Ben Cross
Visiting for the first time and working with a Sri Lankan cast and crew, the British actor who played the role of Deputy Inspector General of Police (DIG) of a Special Task Force who is in a hunt for a man who is trying to hide, shared his exciting experience of the move to make movies for Hollywood and his own attitude and approach to cinema.
TV Times: What attracted you to take up the role of 'DIG of the Special Task Force' in Rutnam's 'A Common man'?
Ben Cross: It is an interesting story. Having read two thirds of the story I knew where the story was going and I began to lose interest. But then something happens that turns the story on its head and I knew at this same moment Sir Ben Kingsly had the same interest like me. 'Wow' was the reaction.
He plays protagonist and I antagonist or vise versa. Which suddenly took the script to an unexpected area or unexplored area except explored in the mind of people. From that moment I wanted to do the story.
TVT: How do you select your character?
Ben Cross: I am very choosy in selecting my characters. Some say I am too choosy. I have never being afraid to turn work down even at the time in the past when I needed money. I have never done anything which I am ashamed to do. That is more important to me. So when I read a script I look at the character and if this character is attractive and I think I can bring out something within my powers to personify the character which then excites me to accept the role defiantly.
TVT: What was your first experience working with a Sri Lankan cast and a crew?
Ben Cross: It is different because the culture is different. This does not mean the religious culture, but their attitude to work. The crew was extremely hardworking and very professional. But they have their own rhythm. It slightly deviated. Things do get done and they get done fairly rapidly. But there is a procedure to follow. No sooner I started work I learnt how to ask for things and eventually I learnt how to get things done. I had to adjust myself to it because it was very important to have good rapportwith the leading artiste and the crew when you work on a film otherwise the film will suffer. After all I would't be a good human being if I cant work with them.
TVT: Having extensively worked in Hollywood, what difference do you see working for 'A Common Man' in Sri Lanka?
Ben Cross: First of all Hollywood is of course miles away in terms of the technology and in terms of colleges training people for the film industry. But it is not just in Sri Lanka but in many many countries. But in a way what you have here in Sri Lanka appears to be a little bit more primitive in the way of technology when compared to the West. But then you get to the question, do the people in the West write letters anymore, no they send email and use facebook.
But I know for sure how important somebody feels when he gets a letter in the post with a stamp on it with handwritten words wit hthe sender's name and the signature at the bottom. Somehow this is worth much more than an email though it carries the same message. In a way from a technical point of view, making of this film in Sri Lanka is rather like writing a handwritten letter as oppose to sending an email. I got the experience that everybody was doing it with tremendous enthusiasm, with a lot of love and with lot of respect for Chandran Rutnam. And in the end this film would turned out to be a handwritten love letter as oppose to an email or SMS.
TVT: With this movie what is the road ahead for Sri Lankan cinema?
Ben Cross: This is a great effort. The producers of this film B. S. Radha Krishnan and Ravi has spent a lot of money. This is a big boost for Sri Lankan cinema. There will be a wide market for this film because it is essentially a Sri Lankan movie. The story in the film is unique to Sri Lanka but it has an international appeal. Having seen this if there are more such efforts to make movies for international market Sri Lankan cinema will have a great future.
TVT: What is your attitude towards cinema of a country that had undergone a very difficult period?
Ben Cross: I have closely followed the terrible war Sri Lanka underwent. When politics and religion is mixed up there is a trouble. I can violently disagree with you on a political question. We can quarrel in the market over the price of bread. But if we belong to two religions we should not have quarrels. We cannot quarrel about what is better in the temple, Synagogue, church or mosque. I hope and pray that everybody in this country will work together to produce the best they could.