The host announces that the next number will be 'The Lion Sleeps Tonight' and the spotlight shifts to the group of five young men standing in a semi-circle in front of the microphones. There is a moment of serious confusion, some quick discussion and agreement and they begin: cool, calm and collected. It is difficult to be impressed by an up-and-coming act when they're delivering all-time favourites we've heard done exceptionally well a million and one times, but these boys held the audience rapt that night with a clear and confident version of the awimba-we. One would want to keep them in mind for future reference: Adagio Chorale.
In November, 2008, a group of choristers from Trinity College, Kandy went excitedly to their choirmaster, begging that the Trinity College Choir take part in the GoldFM Carol Competition. In the face of the disappointment of school regulations not allowing them to do so, they got together independently, called up some friends as well and decided to go ahead and do their own thing. Adagio Chorale was thus formed with three girls and eleven boys, ranging from the ages of 13 to 19. Young and inexperienced as they were, with just a month of singing together under their belt, the choir claimed the top place at the competition.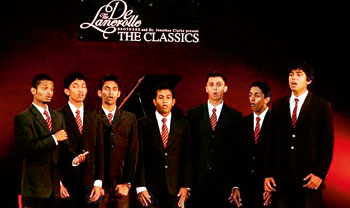 Adagio performs at a concert by the De Lanerolle brothers in Colombo. Pic by Jehan Wijayaratne
Chrishain, alto, now 22, one of those who spearheaded the formation of the choir believes that it was the quality of their voices that got them the award. "Our strength is in our versatility and vocal range," he elaborates, adding that "I think our blend and tonal quality are good." Never think that he boasts or overestimates the power of their performance.
The thing that strikes one as they hit the first notes of 'The Lion Sleeps Tonight' is the mellowness of the harmony and the way in which the three boys providing backup to the lead (a male voice pitching regular mid-soprano range) sound like one voice, completely undivided. "It's the bonds of friendship we have," Chrishain explains, which have been created through years of singing together in school choirs and knowing each other well in the small town that is Kandy. "We sing anything from Sinhala classical hits to contemporary pop numbers," Enuksha, 22, adds to a discussion of the strengths of Adagio Chorale.
"We can take any song and turn it into an a-capella choral version," he continues, adding that "it's not just seconds either, we always have at least four-part harmony. There are so many bands out there, but what we do is rare."
Unfortunately, Adagio Chorale seems to feel that appreciation of the kind of music they do is also rare. Following their win at the GoldFM choral competition, Adagio Chorale was encouraged by Soundarie David to participate in the World Choir Games in Korea. "We were new and we had had absolutely no exposure," Enuksha describes their predicament, "all we had was the competition title, no reputation or exposure whatsoever other than that, and it was not enough for us to get the financial backing we needed." "We had so much moral support though," says Enuksha, describing how Soundarie David and the De Lanerolle brothers continually encouraged them to keep pushing forward, the latter even inviting them as guest performers at a concert in December, 2010.
Adagio Chorale finds inspiration in the Kings' College Choir and the Revelations as well, but puts at the top of their list of role-models and sources of inspiration, Ronnie Thangaiah, the past Choirmaster of Trinity College, well known in the music sphere despite shying away from the public eye.
"I'm sure all of us agree that there is no one like him for us," Enuksha declares, adding that Mr. Thangaiah has been not only a musical inspiration from whom they learnt about dedication and commitment but also the man on whom they base their vision for the future of their musical careers. The admiration is mutual.
"They are pretty good," Ronnie enthuses, high praise indeed from a meticulous musician known to be a harsh critic, "they are talented, utterly committed and their choice of music is impeccable."
Those of you out there who have heard Adagio Chorale on the rare occasions at which they have performed will only be able to agree whole-heartedly with what Mr. Thangaiah says. Then why, the question occurs, have we not heard more from them?
"We get no exposure in Kandy," Chrishain complains, describing how even performances by renowned choirs and ensembles such as Soul Sounds and Revelations draw relatively small audiences in the hill capital. He is quick to add nevertheless that thanks to outreach ventures such as YesFM HomeGrown, they have been able to become more confident in their work.
"We are all either employed full-time or still schooling," Chrishain adds, describing how rehearsals must be coordinated between people living in Colombo and Kandy, but says with conviction that "if some opportunity shows itself we do whatever it takes to just get together and make use of it." Their finely-coordinated rehearsal schedules and practice sessions which stretch late into the night are proof of this commitment.
"We didn't know we were supposed to sing that!" gasps Dileep, tenor, as he rushes out of the temporary YesFM studio at the Kandy City Centre, after having just sung 'The Lion Sleeps Tonight' on the YesFM HomeGrown special edition last Friday; "we were going to sing 'Yesterday'!" None in the audience swinging and snapping their fingers to the rhythm of Adagio Chorale would have been able to tell that it was a moment's notice that produced such a rounded and well-balanced blend, and such a clean and pure delivery of raw musical talent.