'International Airline Ticketing Academy' has been selected 'among the TOP 10' authorized Training Centers by IATA International, the governing body of air travel. Deepal Perera, the CEO of International Airline Ticketing Academy, is much delighted of his achievement as 'Top 10 South Asia IATA Authorized Training Center' for 2011.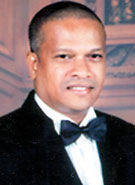 Deepal Perera
'It is indeed another prestigious award, I am so proud of what I have achieved during my 32 years in the Aviation Industry in Sri Lanka and abroad' he said. His dedication and commitment in conducting courses in this field is a clear indication for this recognition by IATA based in Montreal, Canada.
He has been active with IATA since 1983. He successfully completed almost all the courses and educational needs directed and conducted by them. After the establishment of his Academy in 1991, Deepal has had so many students who followed these IATA course locally with him. Most importantly, the Airline Academy is the first IATA school in Sri Lanka appointed by IATA, and the courses offered include the IATA/UFTAA FOUNDATION Course and IATA GDS FARES and Ticketing Amedeus Course.
Their youngest student who passed IATA/JFTAA Foundation was Miss. Melissa Perera 16 years old at that time and presently working for AIR CANADA. Miss Soosy Hopwood was the youngest who passed IATA GDS FARES & TIKCKETING – AMADEUS as the age of 17 years. Miss. Minoli Fernando was awarded BEST PERFORMANCE for IATA GDS FARES & TICKETING-AMADEUS FOR 2010 September exam.