The Ministry of Health has put on hold a controversial medical circular recommending that any patient or accident victim who uses alcohol and comes to a state hospital with a medical problem linked to alcohol usage should be charged a fee.
The circular has been submitted to the Attorney-General's Department for legal clarifications. Minister of Health, Maitripala Sirisena, told the Sunday Times that all government hospitals would have to abide by the circular's directives once the Attorney-General's office has signed off the document.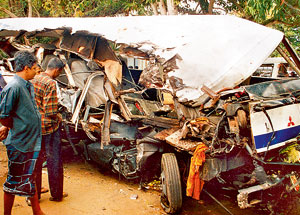 More than 27,400 road accidents were recorded in 2010. File Photo
The Sri Lanka Medical Council (SLMC), however, opposes the circular, stating that no medical professional in a government hospital has the right to refuse treatment to a patient, whether or not he or she was an alcoholic or a criminal.
Dr. N. J. Nonis, the Medical Council Registrar, said the council had not been consulted when the circular was drafted. He added that the circular would also compromise a patient's right to confidentiality.
"When a doctor sees a patient, he writes a report on the bed head ticket [BHT]. This BHT is a confidential medical record. But if this circular comes into effect, the BHT will be available to the clerks handling the cash payments," Dr. Nonis said.
Last year, six per cent or 1,634 road traffic accidents out of a total of 27,445 such accidents involved driving under the influence of liquor, Traffic Police figures indicate. Pedestrians are the main victims in road traffic accidents; 573 pedestrians were killed in road accidents in 2010.
"More often than not, if there's any question of alcohol use with accident victims, it is the driver who is found to be under the influence of liquor, not the pedestrian," said Dr. Prasad Ariyawansa, director, Accident Service, National Hospital.
The two main causes of road accidents are violations of road rules and reckless driving, while drunken driving comes last on the list, according to Professor A. H. Sheriffdeen, chairman of a sub-committee of the Sri Lanka Medical Association dedicated to road traffic accident prevention.