Former Army Commander Sarath Fonseka has been listed among 10 witnesses for his defence in the on-going 'white flag' case before the High Court Trial-at-Bar. Mr. Fonseka is charged with having stated in an interview with the Sunday Leader newspaper that Defence Secretary Gotabaya Rajapaksa had ordered not to spare any of the LTTE cadres surrendering even if they were coming with white flags during the last stages of the military assault on the guerrillas in May, 2009.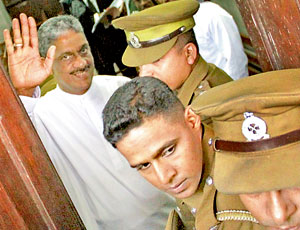 Mr. Fonseka leaving Courts after the hearing on Wednesday. Pic. by J. Weerasekera
He is charged with making a false statement to the Sunday Leader, arousing communal and anti-government feelings among the public and creating disputes among them. The others listed as witnesses are UNP Deputy Leader Karu Jayasuriya, UNP MP Mangala Samaraweera, DNA MP Anura Kumara Dissanayake, Prof. Ashley Halpe, Registrar Supreme Court, Registrar Colombo High Court, National Archives Director, Secretary Press Council and Sunday Leader journalist Raisa Wickrematunga.
The Trial-at-Bar consists of Judges Deepali Wijesundara (President), W.T. M. P.B. Warawewa and M.S Razeen. Senior Defence Counsel Nalin Ladduwahetti informed Court that he hopes to present an additional list of witnesses which would be submitted to Court shortly.
For the Prosecution Deputy Solicitor General Buwaneka Aluvihare, Senior State Counsel Dilan Ratnayake and State Counsel Riyaz Bari, Chaminda Atukorala and Lakmini Girihagama appeared.
Senior Defence Counsel Nalin Ladduwahetti with Chathura Anushka Amaratunga, Angelo Benedict, U.L.G.Bandara, Mervyn Silva, Gunaratna Wanninayaka, Kelum Ubeysekara, Aruna Ihalawithana, Pradeep Mahamutuwela, Namal Rajapaksa, Priyadharshani Ilukpitiya, Janajith de Silva, Premani Pothupitiya, Cyril Wijekoon, Wasantha Pitigala and Niroshana Perera instructed by Paul Ratnayake Associates appeared for Mr. Fonseka. The trial will resume on Wednesday, March 30.