KATUNAYAKE -- Unlike serving food on the ground, airlines serve them to their passengers around 30,000 ft above the earth, thus having to pay extra attention to the food being safe, quality assured and hygienic with no bacteria. If bad food is served, emergencies would be critical at that height and the other is if there are any repercussions on the quality of food, that would adversely affect the image of the airline and it would boomerang on the caterers to the extent of losing their business.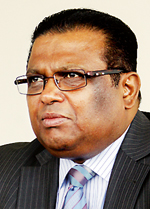 Sarath Fernando
This is exactly why SriLankan Catering (Pvt) Ltd (SLCL) has adhered to all the international and most stringent quality standards and is in business since 1979 moving up and up to great heights in airline catering.
SLCL, then Airlanka Catering Services Ltd, was incorporated on 29th December 1979 as the sole airlines' caterer in Sri Lanka and started as a private limited liability, enjoying BOI status until 1995. Prior to 1988 it was a joint venture between Airlanka and Thai Airways.
Earlier it operated within the airport premises but now with its massive operations serving several international airlines in addition to SriLankan Airlines, the entire operation has moved to a huge building constructed adjacent to the airport.
The first Sri Lankan to handle this massive and complex trade venture is Sarath Fernando who took office as the CEO SLCL in 2009 and is a holder of the rare distinction of being both a Chef Rotisseur and Maitre Hotelier of the 'Chaine des Rotisseurs', the oldest gastronomical society in the world. He has 30 years experience in serving hotels in Australia, USA, Pacific Islands and Sri Lanka.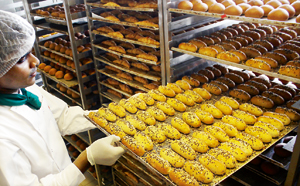 Bakery
He told the Business Times in an interview at the company's office in Katunayake that no other food caterer would follow the most stringent quality measures that they follow. "We have six well qualified micro-biologists working round the clock in our food laboratory and our institution is highly certified and they operate under Hygiene and Quality Assurance Department (HQA)."
He said that they follow these measures to ensure their business integrity and are careful not to deviate from the guidelines. He said that it is not only their reputation that goes with their quality products, but also the airline that serves their food products as the perception of the passengers of airlines who consume SLCL food would speak highly of the airline that served the food and not so much of the caterer who supplied that food.
Therefore, Mr Fernando said that they not only have to be vigilant of their reputation, but also the reputation of the airlines that serve their food; a two-way process. Every single activity that begins from the receiving bay of the raw materials up to the delivery of the processed food product is monitored and checked and re-checked to maintain the highest quality and safety standards.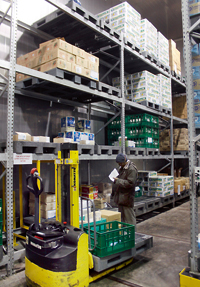 Storage
Mr Fernando said that 2010 was very successful in that they have upped their budgeted target by 40%, in terms of revenue and profitability - an end of a good year, achieving overall good results. Earlier the number of meals produced per day was between 6,500 to 7,000. He said that the company's state-of-the-art flight kitchen in Katunayake produced a total of 3.15 million meals during the 9-month (April-December 2010) period, at an average of 11,453 meals per day.
The company's net profit during this 9-month period was Rs. 640, up 40% increase over the same period in the previous year and this was despite the company registering an exchange loss of Rs. 160 million during the period due to the appreciation of the Sri Lankan rupee.
Mr Fernando said: "We believe that this trend of rapid growth will continue as Sri Lanka savours the benefits of permanent peace which in turn has led to greatly increased tourist arrivals and a boom in airline business to Colombo.
Our flight kitchen has ample capacity to more than double the existing production and cater to the exciting opportunities that this will bring for many years to come." Net profit for the month of December 2010 alone was Rs. 110 million, during which time SriLankan Catering produced more than 385,000 meals.
The company has added several more client airlines in recent times as well as providing an increasing number of meals to airlines already operating to BIA. He said that SLCL also provides cuisine for all seven of the restaurants and lounges at BIA. In addition to strengthening its core business of in-flight catering, SriLankan Catering is also diversifying into ancillary areas, and currently operates an industrial laundry facility in Katunayake and the 24-room Serenediva Transit Hotel at the BIA.
Mr Fernando said that already staff levels were increased with the diversification of the company's activities with the establishment of the two ventures - the modern pastry bakery and the Rs 45 million-worth laundry. With these additions and the highly motivated business activity, Mr Fernando said that they are involved in getting outside business too.
He said, "in addition to catering to airlines, we have our own people in the airport, SriLankan Airlines staff, airport staff, aviation, Customs, and Emigration. There are thousands of workers in this complex and to cater to them is another success story. We want to venture into (some) outside business too, but, first we have to meet the existing demand".
The activities are conducted through several divisions and the Operations division provides food, equipment and ancillary services to all customer airlines on time and is responsible for implementation of menu specifications and Order Room updates meal orders by airlines. The driving section consists of 23 hi-loaders out of which 11 are with chilling facilities and 7 air conditioned commissary vehicles.
Airline customers constantly visit the facility and they go through the activities of this catering facility and even check the expiry dates of storage items.
The entire kitchen is under Chef Shanthilal Perera, one of the oldest hands, who joined as a kitchen helper and has now put in 30 long years with SLCL. Most of the work is through machines and wherever there's human touch, workers must first thoroughly wash their hands, and then wear gloves, head cover and over-coats.
Among many measures that have turned SLCL into an environmentally friendly operation is the Autoclave, a machine which greatly reduces waste products and reduces a considerable amount of atmospheric emissions by fossil fuel burning with the transformation of food waste into animal feed.