While restaurants and shops enticed people with gift ideas that would set their better-half's heart aflutter on Valentine's day, 'His Gift of Love' sent a different wave of palpitations around Colombo. 'His Gift of Love' strategically placed at Majestic City, Crescat and Park Street Mews an odd set of gifts that some women across the country receive all year around. A hammer, a bottle of acid, barbed wire and an iron chain were some of these items on display.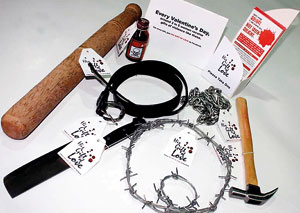 At the launch: A different kind of Valentine's day gift on display
Being as strange as they sound, you can guess these gifts are not received with the same feelings as a box of chocolates or bouquet of roses. They are instead brutally forced on wives and girlfriends by men as a means of punishment. Taking domestic violence out of the shadows, 'His Gift of Love' is a campaign aimed at shocking people into realising an issue that's prevalent.
Valentine's Day was simply the launching pad for the campaign that will continue to draw the issue from the shadows and bring it into an open forum where people will feel the need to speak up and do something about it. "Our future plans are to come up with more projects and get people to interact," explain the people behind the campaign. "We hope to provoke discussion, educate, inform, suggest things to do and inspire people to take action [against domestic violence]."
They hope to do this through their Facebook page, as they believe the social media network is a powerful tool in reaching a large and widespread audience. Facebook is an ideal medium as their target group is the youth. The younger generation being more "forthright and opinionated", if they can be made aware of the ugly truth, they will react and make perpetrators realise they can no longer get away with abuse.
By stirring up the public, the campaign is aimed at getting more people involved to create a "bigger voice", so that the NGOs and relevant government organisations, but mostly victims of domestic violence know they have the support of the public. It is to empower victims, "to let them know they are not alone, that they shouldn't be ashamed of their situation and that there is a way out".
Udeni Thewarapperuma, a lawyer working on women's rights issues in Sri Lanka for over the past decade, says, "The campaign is an eye opener for couples to look beyond celebration and understand that respect and equality are important in their relationship too." She adds that there is limited statistics on domestic violence as it's a difficult issue to collect data on. Many cases go unreported as several victims do not seek support. "But in my experience the severity of violence has increased. Emotional abuse is also a form of domestic violence and it's part and parcel of the lives of women who suffer physical abuse."
If you wish to find out more about the campaign, show your support or help in boosting its efforts, feel free to visit the Facebook page "His Gift of Love" found under "Society/Culture".