The busy folk behind the scenes of any big event are usually taken for granted. At the Galle Literary Festival, however, the behind-the-scenes folk are very much in the foreground, mixing with the crowd, making sure all goes according to plan, and very visible in their Lit Fest T-shirts.
The four-day literary fest is a feat in co-ordination. The logistics are maddeningly tricky in a packed programme of simultaneous events held throughout the day in different locations, and with well over 2,000 book lovers from Sri Lanka and overseas to shepherd and show around.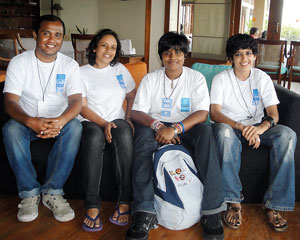 Galle Literary Festival 2011 Volunteers: Nifraz Rifaz, Irushi Tennekoon, Tashya de Silva and Meara Algama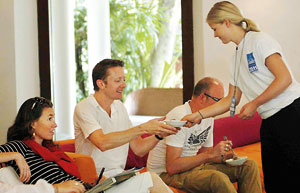 Above all, there's the extra special care needed for the Very Important Persons –the guest writers themselves. Enjoying every minute of it was Galle-born, Colombo-employed Nifraz Rifaz, looking nifty in his blue-on-white t'shirt, and very much at home on familiar terrain, commuting every two hours, with fellow volunteers, between the Galle Fort and the Jetwing Lighthouse, the two main festival venues.
We stopped to chat with Nifraz and three of his volunteer friends just after the final official event on the agenda, the grand finale lunch at the Jetwing Lighthouse. The lunch is for all the writers, organisers, and well-wishers, and is hosted by Galle Literary Festival founder Geoffrey Dobbs.
A repeat volunteer, Nifraz and his buddies were among the 60 persons helping this year. "It's a fantastic opportunity to interact with people, and meet writers and fellow book-lovers," said the 22-year-old HSBC Corporate Communications officer, who is also a blogger and an aspiring writer. "There's a lot of running around required. You don't only sit in a chair and sell tickets. You run around setting up the writers in hotels and resorts, making sure they're fine, and escorting them around. You check passes, you hold microphones, you do a dozen things in a dozen minutes. But it's all great fun, and very rewarding.
"Throughout the festival, I met writers I admire and I worked with them closely. That's a rare privilege. Being on the organising team of an international event means a lot of valuable exposure."
The benefits are many. "You spend one whole month preparing for a very intense four days. In that month you hone essential skills – leadership, management, co-ordination and people skills," Nifraz said. "It's an amazing learning experience."
The Galle Lit Fest volunteers tend to be a diverse team – school leavers, undergraduates, and employed persons, among them teachers, lecturers, artists and photographers. They come from Galle, Colombo, Kandy, and include expats. Almost all of them are serious book lovers.
Irushi Tennekoon, a CMS Ladies' College graduate studying English Literature at the Sabaragamuwa University, said the main attraction for her was the presence of Shyam Selvadurai, the Sri Lankan-born writer who lives in Canada and who was curator for this year's festival.
"His Funny Boy is on our syllabus," Irushi said. "I love the book, and I was very keen to see and meet the writer. That happened. Of course, I also met a lot of other interesting people at this festival, and made lots of new friends."
Tashya de Silva, also a CMS Ladies' College graduate, was on holiday from the University of Sydney, where she is studying econometrics, for a Bachelor of Commerce. "I too am a repeat volunteer," she said. "I enjoy volunteering. It's been an awesome experience in Galle. I discovered abilities in me I didn't know I had."
Meara Algama, a former head prefect at CMS Ladies' College, who is counting the weeks before heading to a foreign university ("hopefully in the US"), found the festival a "pleasant surprise."
"I did not expect it to be this enjoyable," Meara said. "It was a lot of work, but it was all fun work."
It was a blazing afternoon. The last of the Lit Fest guests were leaving the hotel, and Galle, but the day was not over for the helpers.
That evening they would be attending an exclusive thank-you dinner and party hosted on Taprobane Island, Mr. Dobbs' private property just a hundred yards off the coast of Weligama. The dinner-cum-party is a tradition the volunteers cherish.
"You have to wade through the sea to get to the island," said Nifraz. "It's high tide at night, so the water is up to your waist or higher. Then you have to climb a rock and ring the bell. Once you are inside this extraordinary private residence, you are in another world."
It's an exotic treat the hard-working Galle Lit Fest volunteers know they have earned.